Mountain, road, BMX, comfort, track… with so many different types of bikes out there, finding a general-purpose, versatile, accessible vehicle can seem like a daunting task.
The solution? Hybrid bikes, of course!
A cross between road bikes and mountain bikes, these guys are rated to handle numerous terrain types while providing comfort and ease to the rider. Their general-purpose usage makes hybrid bikes perfect for the casual or urban rider.
But let's face it: they're expensive. And finding the best hybrid bikes under 1000 dollars is admittedly a little tricky, especially if you're unacquainted with hybrid bikes.
Not to worry! Below you will find not only answers to all your pressing questions about hybrid bikes but also our top 10 picks!
Best Hybrid Bikes under 1000 Reviews
We have researched long and hard to bring you the 11 following hybrid bikes, here to bust the myth that good bikes must always be expensive. Let's get started!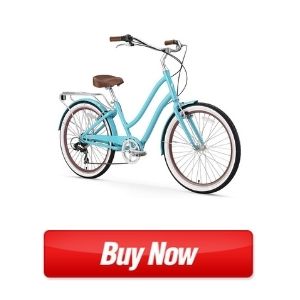 We have an outstanding selection for the ladies reading this article. This beautiful hybrid cruiser from sixthreezero will appeal to any woman who loves taking bike rides around town, followed by a leisurely journey on a nearby trail. Here's what we love about it.
Built from aluminum, this bike's frame is lightweight yet sturdy, allowing the rider to enjoy easy maneuvering.
This is further enhanced by the comfortable drop handlebars, which have been made in a low-swooping design to enable seamless step-through entry. With your body in an upright position, you'll be well equipped to take on the trail or run errands.
Speaking of errands, this bike also comes with a rear rack, which can be used to attach baskets to carry your cargo. The fender attached to this bike also ensures that it will stay clear of all the road debris.
But how does the bike perform? Well, any of the four-speed configurations combined with the 26-inch wheels make for a bike suited for long-distance riding or leisure– whichever suits your fancy!
You'll also love the saddle on this thing, made from brown synthetic leather; it's been furnished with classic stitching for better comfort and grip.
Meanwhile, you will be able to enjoy the benefits of both rear and front handbrakes for a smooth yet firm stopping power every time. Not to mention, this bike is absolutely beautiful. Its components shine from a high-gloss chrome finish, and it's available in a ton of different color combinations, too!
Pros
Available in single-speed, 3-speed, 7-speed, and 21-speed variations
Equipped with 26-inch wheels having 2-inch semi-slick tires for stable riding
Comes with a rear rack for optional baskets, and a matching fender
Beautiful glossy chrome finish on the bike's components sets it apart
Made for riders measuring between 5′ and 6'4″
Cons
Some users report issues with the rear fender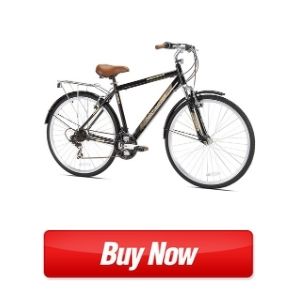 This hybrid bike from Springdale that has justly earned a good reputation. Furnished with several impressive features, this bike is a winner in low-key, low-maintenance hybrid bikes that will be your companion in every ride around town.
Equipped with a lightweight yet robust aluminum frame, this bike is one that will last you for many years if you treat it right. It comes with Shimano's wildly popular 21-speed rear derailleur gear system, so it's not just limited to rides around town!
One of the standout features of this bike is its 60mm travel front suspension. You will enjoy a comfortable, smooth ride on many different terrains. Furthermore, the linear-pull brakes will allow you to stop confidently and smartly every time.
Other prominent features of this bike include 36 spoke double-wall alloy rims, which will undoubtedly stand out in any setting. You'll also enjoy the rear rack and quick-release seat clamp, and of course, the rear and front fenders. The best part? This bike comes in variations for both men and women!
All that being said, it's best to avoid this bike if you are looking for a heavy-duty everyday vehicle. Although fast and efficient, this bike is not well-suited to long periods of heavy usage, so choose accordingly.
Pros
Lightweight, handcrafted aluminum frame for easy yet sure movement
Flat handlebars allow you to ride with certainty
Shimano 21 speed derailleur system is well-suited to many different terrains
Linear pull brakes make for a smooth yet confident stopping power
Integrated alloy quick-release seat clamp enhances convenience
Cons
The seat is somewhat uncomfortable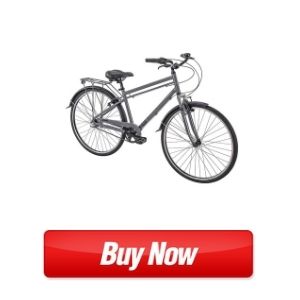 From Royce Union comes this sleek and efficient hybrid bike equipped with several performance features that you're bound to love. That includes, of course, a 3-speed gear system that makes this the perfect choice for casual riders and daily commuters.
For that, we have the Shimano Twist to thank, paired with the Shimano Nexus rear derailleur gear system that allows superbly smooth and easy switching.
What's more, the internal hub is also from Shimano, which also gives it ultimate protection from mud, dirt, and rain in any terrain. As a result, the cleaning and maintenance of this bike are as easy as 1-2-3!
Made from aluminum, this bike's frame is supremely robust and durable despite being lightweight and easily maneuverable. Combined with the Zoom suspension fork, it produces a riding experience that is confident, smooth, and strong, all at once.
The Velo saddle on this bike has been adequately padded and has been equipped with dual springs. To ensure that your hands never get tired, the grips of the handlebar are ergonomically molded. This handlebar itself rests on a slight rise, so you'll find it easy to lean in and gain momentum while on the move.
Moreover, the linear-pull brakes on this hybrid bike are made of lightweight alloy, which, together with the machined alloy rims, allow the rider to enjoy immediate yet seamless stopping power. The 700c tires come with an all-terrain tread, so you can take this bad boy almost anywhere you want!
Pros
Zoom suspension fork and Shimano shifting combine to produce a smooth riding experience
Switch easily between the three different Shimano speeds
Available in two different bike frame size specifications: 17″ and 21″
Generously padded Velo saddle with dual springs for added comfort
Ergonomic handlebar grips allow you to enjoy a comfortable grip
Cons
The assembly process is somewhat difficult and tedious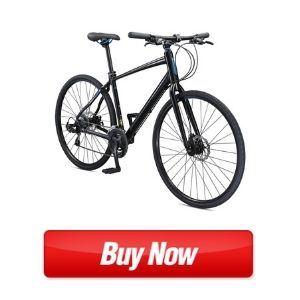 With all this talk of which bikes are suitable for men and which for women, some of you are undoubtedly looking for one that can suit both genders' specifications. Well, this Schwinn hybrid bike is just the right choice for you.
Thanks to its sturdy and durable aluminum frame, this bike seems to ride on the wind with how lightweight it is. The integrated elastomer soft tail suspension allows for ultimate comfort with its unfailing ability to absorb shocks and impact.
But the most impressive thing about this bike is its gear system: the Shimano Sora 18-speed drivetrain allows the rider to enjoy smooth, instant shifting on a wide variety of terrain types.
To add to that is the Schwinn Ergo handlebar, which has been built for ultimate endurance for all levels of riding activity. The carbon sport fork on the bike, together with the alloy steerer and disc mounts, further enhances the ride's smoothness. What more, the TRP Spyre C mechanical disc brakes produce a firm, sure stopping power.
All in all, this is definitely one of the most straightforward yet functionally impressive bikes we've come across while looking for the best hybrid bikes for under 1000 dollars. However, we would not recommend this bike for beginners as it's only suitable for intermediate to advanced riders.
Pros
Integrated Schwinn Smooth Ride Technology with an elastomer soft-tail suspension
Wide gear range thanks to Shimano Sora 18-speed drivetrain
Comes with 35C tires mounted to robust alloy rims
Suitable for use by both men and women thanks to its straightforward design
Suited for use in nearly any kind of terrain
Cons
Assembly might be time-consuming and difficult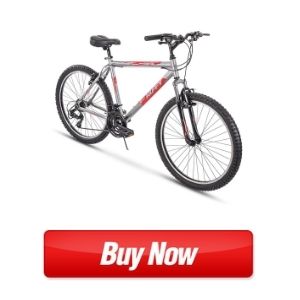 With over a century of expertise in producing some of the best bikes to be found on the American market, Huffy is a brand that has come to be trusted by hundreds of thousands of riders. This offering, although a trail bike, is well-suited to the purposes of a hybrid bike.
Along with a lightweight yet robust frame made of aluminum, this bike has been built to give the rider greater rolling momentum. For that reason, pedaling for speed and acceleration is also that much easier with this bike.
If you're looking for a dependable hybrid bike under 1000 dollars that comes with suspension, then you'll love this one for sure.
Its front suspension delivers just the right amount of impact and shock absorption while making your ride easier and smoother. Your riding comfort will be further enhanced by a front-loading stem, which also comes with a forged crown.
Riding this thing is definitely an experience every time. It comes with an all-Shimano drivetrain, which, together with the indexed rear derailleur gear system, allows you to shift smoothly through the 21 speeds. And thanks to the high-quality padded and stitched ATB saddle, you'll never get tired!
The linear-pull brake system of this bike is also to be applauded; its alloy construction is mirrored in the wheel rims, and together they produce a supremely smooth stopping power. And, what with the slight-rise handlebar, you will be able to enjoy upright riding that does not put undue strain on your back and shoulders.
Pros
Efficient and smooth front suspension system produces a comfortable riding experience
Stitched and padded ATB saddle for ultimate comfort while riding
Alloy linear-pull brakes combine with machined alloy wheel rims for smooth stopping power
Available in 8 attractive color options to suit your individual aesthetic
Cons
Durability has been a concern for some users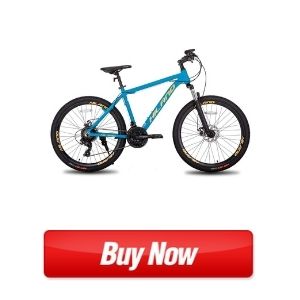 Tired of reading about big old bikes for mountain-sized men? We've chosen this next bike, especially for all you short kings. Whether you're a male rider on the shorter side or are looking for a reliable hybrid bike for your young son, this offering from Hiland will definitely appeal to you.
This one comes with 26-inch wheels, which are beautifully integrated into the bike's premium aluminum frame. Its all-black body has been accented with white here and there, and we can guarantee you'll turn heads when you step out with this bad boy in tow.
But it doesn't just look great; it feels great too! It has an integrated double disc brake system, which produces a stopping power that feels stable and reliable every time.
What's even better, though, is this bike's gear system: the Shimano 24-speed gearbox allows you to shift quickly between the different speeds according to the kind of terrain you're on. Because Hiland has taken pains to include only the highest quality of components, you can expect this thing to last you quite a long time.
All that being said, it's not wise to expect this bike to do magical things. Although it's well-made and incorporates premium components, it's not well-suited to long periods of heavy use. However, it's also worth noting that this is one of the cheapest hybrid bikes you will find–so expect it to behave accordingly!
Pros
Equipped with a smooth and efficient Shimano 24-speed gearbox
Ideal for use in everyday commutes and casual rides around town
High aesthetic appeal thanks to integrated wheels and premium paint finish
Double disc brake system allows for dependable stopping power
Cons
Many users claim the assembly process is complicated and time-consuming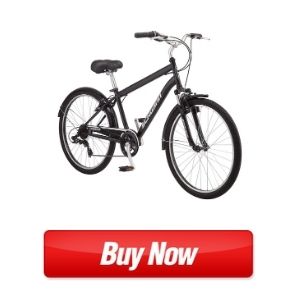 We're back with another Schwinn hybrid bike. It has all the markings of a great Schwinn bike, and it's easily one of the best we've found in a lower price range. Curious already? Read on!
Let's start with the construction of the bike. Equipped with a sturdy steel frame, this bike is lightweight enough to take with you on your errands around town yet strong enough for long-distance cycling.
The 7-speed twist shifter combined with the Shimano rear derailleur gear system produces a superbly comfortable gear shifting experience to facilitate this.
Braking is also an effortless affair with this bike. The front and rear alloy linear-pull brakes allow you to enjoy a smooth stopping motion in almost any terrain, helped along by the stability of the strong yet lightweight alloy rims.
To add to the overall comfort of riding this bike is the swept-back low-rise handlebar, which you will appreciate if you dislike the limitations of the flat handlebars frequently seen in hybrid bikes.
And of course, you'll be saying bye-bye to back pain and shoulder stress as a result. Furthermore, the handlebars are also ergonomically padded to relieve wrist and hand strain.
This is easily one of our favorite bikes from those we have come across during our search. That being said, it's not exactly ideal for all types of riders; we would only recommend this for suburban and casual riding. Particularly if you're a beginner or a novice, you'll love this bike!
Pros
Comfortable and robust steel frame with a front suspension fork
Facilitates a comfortable riding position and easy maneuverability
7-speed Micro Shift Twist Shifter and Shimano rear derailleur make for smooth gear changes
Linear pull brakes in the front and rear are made from sturdy alloy material
Cons
Inadequate assembly instructions may prove to be frustrating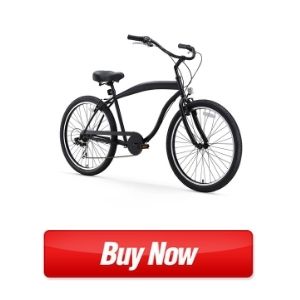 Given what a great brand sixthreezero is, it wouldn't have been fair to include only a women's bike from them. Keeping that in mind, we bring you their men's beach cruiser hybrid bicycle, and it's every bit as impressive as our last threesixzero review.
With wheels measuring 26 inches, this bike comes with an extended steel frame of 18 inches that allows for effortless forward pedaling. So, if you're on the taller side, you'll definitely appreciate the make-up of this bike.
Because this bike was made for cruising on the beach, its fittings and components are designed for a light, comfortable ride. It integrates balloon tires, which make for a lightweight, floaty ride, while its saddle is extra-wide to make your leisurely hours at the beach all the more comfortable.
But just because this is a beach cruiser bike doesn't mean it won't deliver on performance! Furnished with a 7-speed Shimano gear shifting system, this is a bike that you can depend on in various conditions.
And thanks to sixthreezero's unique cruise crank configuration, you can expect smooth rolling on the boardwalk, in the sand, or on the pavement! The brake system in this bike definitely won't disappoint you either; it has both rear and front handbrakes to facilitate a convenient stopping motion whenever you need it.
Overall, it's quite easy to see how this lean yet mean beach cruiser has earned its high rating. That being said, you should definitely look elsewhere if you're on the hunt for a bike that will allow you to do cross-country cycling.
Pros
Super easy to put together; the process only takes 15 minutes
7-speed Shimano gear shifting system allows for smooth transitions
Forward-pedaling design combined with Shimano seven-speed hub makes this ideal for tall riders
Extra-wide saddle and rigid yet light balloon tires for your comfort
Cons
Durability of this bike is somewhat lacking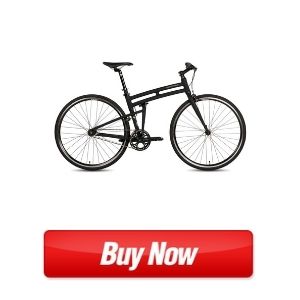 Our penultimate pick today comes with a little bit of a twist: it's a folding bike! So, if you're on the market for an all-purpose bike that you can bring along with you on your trips, then you'll definitely appreciate this offering from Montague. Let's see what it has to offer.
The first thing you should know about this bike is that it's a single-speed model. It uses a 44x16t single-speed drivetrain that operates from a flip-flop hub. That means this bike is perfect for fixed gear riding and freewheeling applications.
This bike comes with standard 700c wheels, which means you can use it for most casual riding situations. Also, the super-lightweight design means faster speeds and a comfortable, joyous ride.
The best thing about this bike is undoubtedly its folding ability: it takes only 20 seconds to turn this bike into its compact self, and it weighs only 24 pounds! So, whether it's for city riding or light trail riding, this is a bike that won't let you down.
As you can probably tell, this is one of the best hybrid bikes under 1000 dollars that you can find for casual riding. However, that also means that this bike isn't suited to riding on harsh terrains or mountainous/hilly areas.
You also won't be able to modify the bike according to will; it's a standalone product. Otherwise, it's a wonderfully straightforward bike that is perfect for casual riding.
Pros
Simple and low-maintenance single-speed drivetrain
Folds up into trunk-sized proportions in only 20 seconds
Weighs only 24 pounds; allows for greater speed while riding
The rear wheel can be used in a fixed-gear or free-wheel setup
Cons
Not suitable for tall riders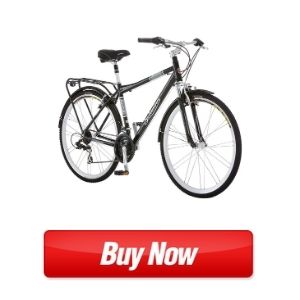 Our final pick today is from—yes, you guessed it—Schwinn, again! By now, you're probably wondering why we love those guys so much. Well, instead of telling you, we'll just show you, because this bike is, undoubtedly, one of the best that the brand has produced.
Constructed from aluminum, the frame of this bike is built to last without making you feel like you're lugging around an ungainly burden when you're riding.
It also comes with Schwinn's suspension fork, which, together with its alloy crank and the bike's generously padded seat, allows for a ride so comfortable that we've struggled to find parallels.
One of our favorite features of this bike is its adjustable stem; together with the back-sweeping handlebar, it produces a riding experience that feels like it's tailored to fit you. On that note, we also love that this bike comes in both step-over and step-through configurations.
Don't worry about taking this bike wherever you want because it comes with a 21-speed SRAM grip shifter. What's more, the Shimano rear derailleur gear system also makes uphill pedaling a walk in the park. The Promax alloy pull linear brakes make for dependable stopping power.
And this bike is genuinely rated to follow you wherever you go, thanks to its in-built fenders. These will easily keep dirt off of you as you ride, no matter whether it's at the beach, in the city, on the trail, or around town!
Pros
Schwinn suspension fork and alloy crank combine for a comfortable ride
Back-sweep handlebar allows for easy upright riding
Generously padded seat enhances your comfort while riding
Dual fenders effectively keep dirt off of you as you ride
Innovative design makes it suitable for use by both men and women
Cons
The durability of some of the components is questionable
Things to Consider Before Buying
Shopping for a hybrid bike can be a confusing task given the vast array of features and types available to you. Keep the following factors in mind for a more straightforward selection process.
Bike Frame Construction Material
The frame of a bike is an all-important constituent of its stability, performance, and ease of use. Three materials are mainly used to construct bike frames: steel, aluminum, and carbon fiber. Let's have a look at each kind in turn.
If comfort is what you prioritize in your road bike, steel is the right option to go with. Although it's heavier, it offers more flex. It's also relatively more potent than other bike frame construction materials, so durability is another strong point.
Aluminum is the material of choice for those looking to spend a little less on their bikes. It's strong and sturdy despite being lightweight, but it's not suitable for rough trail riding.
Most high-end hybrid bikes that you will find on the market will be made from carbon fiber, so yes, bikes produced from this material tend to be quite expensive. Thankfully, some hybrid bikes only have some parts made from carbon fiber, so they can still have a low-price tag.
Carbon fiber is also the right choice if you're looking for a bike with lower weight but high strength.
Intended Use
Each type of hybrid bike is suited to a different purpose. You can read more about the different hybrid bike types below. However, there are some general points to remember, starting with the kind of terrain you will be riding.
If you think you will be frequenting rough terrain, then the tires on your chosen hybrid bike must be larger. This will create a more reliable cushioning effect that will keep you safe.
Thinking of riding your hybrid bike in hilly or mountainous areas? Then you will require thinner, lighter tires. You can even choose to get a suspension fork for added comfort.
If your hybrid bike is mostly used in urban settings, you will need slick, light road tires that are similar to those of a road bike. This allows you to ride quickly and with greater efficiency.
Handlebars
Most of the best hybrid bicycles under 1000, especially those we have looked at today, come with flat handlebars. That is, in fact, one of the defining characteristics of a hybrid bike. However, other handlebar types are also available. Let's look at each type in turn.
The vast majority of hybrid bikes come with flat handlebars. If you enjoy riding in an upright position, you will enjoy the benefits of flat handlebars. These include greater control of the bike, along with the minimal strain on your wrists and hands. Flat handlebars also facilitate a more aerodynamic position in the rider.
Drop handlebars are less commonly seen in hybrid bikes and more in road bikes. They allow for more incredible speed, as their design enables the user to lean forward and create more momentum. That being said, it's important to note that drop handlebars also put a strain on the rider's back.
As you can guess, the name for this type of handlebar is derived from the similarity it has in shape to the drop handlebar. The difference is that the drop is higher, making it versatile for the rider in terms of handling and controlling.
Riser handlebars extend slightly upwards and backward in the rider's direction, hence the name. These handlebars are the ideal choice for casual bike riders who want to ride sitting upright as well as farther back.
Brakes
One of the essential components of any bike is the brake system, which significantly determines the safety and convenience to be expected from the bike in question. There are two main types of brake systems in hybrid bikes: disc brakes and rim brakes.
Brakes in the disc-style work by gripping the wheel hub's rotor once activated. This makes them suitable for riding in harsh, rough terrains where braking is more unpredictable.
Although not as powerful as disc brakes, rim brakes are more commonly seen in casual-use bikes. It works by inhibiting the rim of the bike's wheel, hence the name. Rim brakes are ideal for casual riding and commuting as they can wear out faster than disc brakes.
Suspension
You'll be less likely to find a hybrid bike that comes with a suspension system already built-in. However, if you'll be using your bike to ride on rough or difficult terrain, then a bike with a front suspension system will benefit you as it will absorb shock and impact, creating a smoother ride.
Do remember, though, that a suspension system adds to the weight of a hybrid bike. This might make the bike less maneuverable, which can be disadvantageous to some riders.
Wheels and Tires
When considering the wheels of your bike, pay close attention to the size. The standard wheel size for most hybrid bikes is usually in the range of 28c to 32c. Since these sizes are wider in comparison to road/touring bikes, they are better for commuting and casual use.
On the other hand, the tire's design will determine the level of traction you can expect from the bike. The level of tread dictates the grip. If you're not going to be riding in rough terrains, you won't really require a good grip.
Rack / Fender
Some hybrid bikes come with racks for carrying luggage or cargo (usually removable). If you'll be using your bike to buy groceries, transport documents, or other items, a cargo rack is necessary.
Fenders are a huge help when riding bikes in inclement weather. They work to keep mud, dirt, water, or other road sprays from being thrown up into the air by the bike's tires. That means your clothes stay clean, and your bike stays relatively dry.
Gears
It's easy to see the appeal of a bike equipped with multiple gearing options: not only can it allow you to ride at lots of different speeds, but in different terrains as well. It's important that these gears can be readily and seamlessly shifted between for a smooth ride.
The derailleur gears are lightweight and simple but more prone to wear and tear. A good alternative is fully enclosed hubs, which are better protected against external elements.
Gears aren't really a necessary feature for those who will be using their bike for casual riding, so you can go with a single-speed gear if that sounds like you.
Types of Hybrid Bikes
The right kind of hybrid bike for you depends entirely upon its intended use and where you'll be using it. Here are the different types.
As the name suggests, this bike is ideal for regular, light, and/or recreational use. They typically come with a comfortable saddle, a high handlebar, and tires of high width. Because they're well-suited for pedaling on flatland, they're popular amongst commuters.
Although the name suggests something dynamic and powerful, performance hybrid bikes are actually bikes suited to everyday use. Their lightweight build and versatile capabilities lend themselves to comfortable and reliable upright riding. They're great for beginners, too.
This type of hybrid bike will definitely appeal to part-time thrill-seekers. The versatile design of this bike makes it great for sport riding, simultaneously offering great street riding speeds. It typically comes with a disc braking system and front suspension, allowing it to absorb shocks more easily.
Designed specifically for riding inside cities, this bike has a more streamlined design having fewer components. Urban hybrid bikes are ideal for commuting short distances, so many come with luggage racks and weather fenders. These are reliable bikes, but should not leave the city.
500 vs. 1000 Dollar Hybrid Bikes
There's no denying that hybrid bikes are expensive. The more features you want, the more cash you'll have to shell out. So, what can you expect from a hybrid bike that costs half of the ones we've reviewed today?
Weight
One signifying difference between a bike costing less than $1000 and one costing less than $500 is the weight. The former actually tends to be lighter than the latter because they are typically designed to handle more terrain types. As you can imagine, a hybrid bike costing $500 or less is not rated to take on rough terrains.
Tire Width
Keeping in line with the above point, it's worth noting that bikes costing less than $1000 tend to have thinner widths tires. On the other hand, bikes of $500 or less tend to come with tires that have to be thick and heavy to avoid being expensive.
These heavy tires not only make the bike slower but make it challenging to ride on hilly or mountainous terrains.
Groupset
Although groupsets for bikes under $500 are cheaper and more readily available, it's worth noting that they are also less durable. But more importantly, groupsets for bikes $1000 and under are much safer to use, as well. Unfortunately, higher-quality groupsets are typically not fully compatible with bikes under $500.
None of this means bikes under $500 are unworthy. It ultimately depends on how you'll be using the bike. Not everyone needs to blow a hole in their wallet!
Frequently Asked Questions
1. What is a hybrid bike?
If you were to combine the features of a road bike with that of a mountain bike, you would get a hybrid bike. These are ideal for general-purpose riding while being able to handle the demands of various terrain types
2. What can I do with a hybrid bike?
Because hybrid bikes are compatible with numerous terrain types, they're great for commuting and light trail riding. You can even cover long distances with some hybrid bikes. They're also suitable for beginners.
3. Can I use a hybrid bike on a mountain trail?
It's not impossible, but it's dangerous. The tires of a hybrid bike are typically of medium width, making them suitable for dirt roads at best. Plus, the cheaper the bike, the less resilient it's likely to be.
4. What are the differences between the finest hybrid bikes under 1000 dollars and those under 500 dollars?
Hybrid bikes costing less than $1000 tend to be lighter, and you can find higher-quality groupsets for them. And we dare say the seats are more comfortable for the former kind!
5. Which is faster—a hybrid bike or a mountain one?
Definitely the former, as they are more lightweight and allow the user to enjoy a more aerodynamic riding position.
Final Words
Although we don't like playing favorites, our top pick for women would undoubtedly have to be this beautiful hybrid bike from threesixzero. If you're looking for a unisex bike, the Schwinn Vantage will appeal to you.
We hope our picks for the best hybrid bikes under 1000 have proved helpful. Good luck, and happy riding!