When it comes to quality, few brands manage to deliver what Cannondale is capable of. Especially when it comes to road models – it has no competitor.
Now that's where the Synapse bike comes from – a unique focus on making the best of the best out there. For tackling the road, you won't probably find any better bike.
That's why making a Cannondale Synapse review was somewhat more complicated, as it is too far from what others offer so that you couldn't compare it to anything else.
Explaining what this bike offers took us some more time & effort than we expected. But we could come up with all the reasons why it is such a great choice, and we even found some downsides despite its nearly-perfect image.
Want to know what we're talking about? Then keep reading!
Cannondale Synapse Bike Overview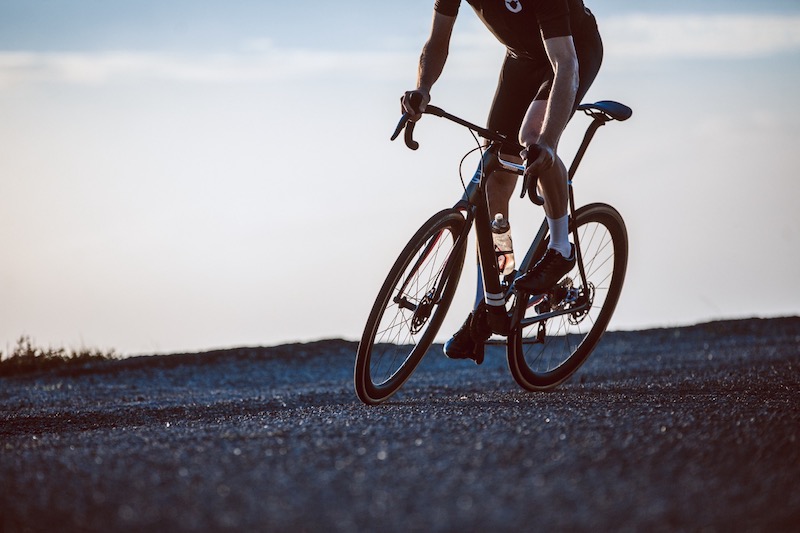 Everyone loves a bike that can take them everywhere. But few really know what this truly means.
The massive advantage in comfort and stiffness, practicality, and overall smoothness takes the performance of this bike to another level. It's like combining every single major feature from every other bike and putting it in one unbeatable design – the Synapse.
This one uses the Hi-MOD Carbon fork & frame, along with an outstanding SRAM drivetrain, plus a hugely comfortable saddle & handlebar – all ready to take you on the longest of paths.
You can ride for hours without a single problem with the handling. And you can still feel decently comfortable even after several days on the road.
Handling is also fantastic, whether you're using it for high-level competition or taking it for a stroll in the city highways.
And sure enough – the bike leaves no space for harsh riding. If you're expecting to feel smooth even in the most jarring paved road, this bike will smooth it out.
Overall, this is a high-level bike for those who want to take performance to a whole new level. With so many exceptional components and a wide array of technologies to make it the high-end of high-end bicycles – the Synapse from Cannondale will stand out as a unique option. And it is.
Want to know why? Then head down further!
What We Liked
Boosts the rider's endurance to the max; thanks to a light, comfy, and soft design
Prevents any bump or obstacle from causing loss of control despite its lightness
Exceptional drivetrain & brake system ensure maximum responsiveness in any situation
The decently convenient design boasts a connectivity system for data collection about rides
Ultra-comfortable design ensures proper posture & enjoyment in any situation
What We Didn't Like
Only available in one color despite having an expensive price tag
The extra-light and speedy design make it a little unsafe when riding on tricky paths
Cannondale Synapse Full Specs
| | |
| --- | --- |
| Brand | Cannondale |
| Colors | Mantis |
| Sizes | 48" / 51" / 54" / 56" / 58" / 61" |
| Weight | 16.8 lbs / 7.6 kg |
| Frame | BallisTec Hi-MOD Carbon – Di2 ready |
| Fork | BallisTec Hi-MOD Carbon |
| Pedals | Not Described |
| Seatpost | SAVE Carbon |
| Saddle | Fabric Scoop Shallow Pro |
| Stem | All-New HollowGram SAVE |
| Shifter | SRAM RED eTap AXS HRD – 2×12 |
| Crankset | SRAM RED Carbon |
| Cassette | SRAM XG-1290 – 12-Speed |
| Chain | SRAM RED – 12-Speed |
| Derailleurs | SRAM RED eTap AXS |
| Hubset | HollowGram KNØT |
| Rims | HollowGram 45 SL KNØT |
| Tires | Vittoria Corsa – 700 x 28c |
| Brakeset | SRAM RED eTap AXS HRD |
| Handlebar | HollowGram SystemBar SAVE |
Cannondale Synapse Advantages
Now that you've gone through its full specs, you can read more about how well it does everything. Well, that's exactly what we're giving you here:
Next-Level Endurance
When we say endurance, we don't only mean that the bike can take you on the longest of roads with no drawbacks, but we also mean that it will push you to do so.
The Endurance Race Geometry on the frame allows every user to achieve all kinds of postures when riding. Either an upright form for more aggressive riding or something more laid-back to ride with more comfort & ease, you'll get both.
But this wouldn't be possible without the high-quality set of tires. The Vittoria Corsa tires at 700c are just a next-level set that won't disappoint no matter the terrain or weather. Such a level of traction and smoothness will help you tackle the road with so much ease that riding will be a total pleasure.
And sure enough, it all comes down to the Ultralight Hi-MOD BallisTec carbon frameset. Combining a carbon fork & frame ensures you get the lightest of bikes out there, and this will undoubtedly improve how exhausted you feel while pedaling.
At only 16.8 pounds of total weight, combined with its tires & geometry – riding this bike feels like standing on a cloud and gliding through water.
That's how amazing it is. And that's certainly something to strive for, especially in a competition when you're looking for maximum endurance.
Smoothening the Road
Sure, the frame and tires will help you achieve exceptional endurance in any road. But what really sets this bike apart is the excellent fork you're getting.
Coming in the BallisTec Hi-MOD Carbon build, you'll be ready to enjoy one of the most shock-dampening systems out there. Having no suspension ensures that you're getting maximum speed on the road, but with this frame, you're also ensuring no vibration or control loss.
Whether climbing or sprinting, the Hi-MOD carbon fork lets it happens with amazing ease. Paired up with the quality Vittoria tires & HollowGram 45 SL KNØT rims – you won't believe how well it feels to ride this bicycle.
If you're wanting to feel utterly comfortable even in the bumpiest of roads, then you'll find this bike to be exactly that.
Hugely Reliable Groupset
Enjoying the ultra-light frame won't be too hard, especially when it is combined with an excellent groupset.
Here's where the SRAM RED eTap AXS HRD system enters into action. Making sure you can torque-up the system while going uphill or tone it down while trying to be safe on a downhill street – it's all possible with this bike.
But being possible is not what sets it apart. It is the magnificent effectiveness and quickness that offers such an advantage, especially when you're trying to stay in front of the race, and you don't want to miss a single-speed change.
The reliability is on the next level. And with such quality options & responsiveness, you won't get much less than fantastic results.
Extreme Comfort & Convenience
Something that every road bike needs to get right is comfort. Otherwise, most users will get tired of it in just a few hours of riding it.
Don't worry, though – the Cannondale Synapse has it all figured out.
Combining the perfect HollowGram 45 SL KNØT wheels with Vittoria Corsa tires, you can expect no problem with grip or speed on the road.
But when you add the SAVE Carbon seatpost with Fabric Scoop Shallow Pro saddle, that is where everything gets good. This combination not only boosts your performance to the max, but also makes sure you feel as comfy as you need every time.
Sure enough, we can't forget about the All-New HollowGram SAVE stem, pairing up with the SAVE SystemBar like bread & butter. That will make your handling immensely easy, but also way comfier than 90% of all other bikes in the market.
Lastly, you can't forget about its convenient features – starting with the double-mount for bottles and the Integrated Cannondale App connectivity system that records everything from speed to distance, time, and more.
If you want an ultra-comfortable & convenient bike – this one is exactly that.
Cannondale Synapse Disadvantages
While it was trickier than usual to find real downsides from this bike to bring to this review, we actually found two that you need to know about:
Lack of Color
The Cannondale Synapse comes in various color options, but only depending on the model that you're getting.
If you want either the most expensive or the most affordable Synapse model – you won't have the chance to choose between different colors. Instead, you'll have to stick to the one it comes with.
In case you're going for the highest-quality model (the one we talked about here), you will get the Mantis color. It boasts a brownish-green that doesn't look bad – but could certainly be more enticing.
This won't change the performance of the bike but can be a no-no for those who are expecting better quality from such an expensive model.
Light Means Fragile
When we say "fragile," we're not referring to a bike that will break or crack with ease. That's certainly too hard to happen for such a quality build like the Hi-MOD Carbon.
What we truly mean is that the bike is so light that achieving fast speed is a piece of cake. But once you reach these speed, feeling bumps & vibrations from the road will be way easier.
This not only makes it less comfy when riding on tricky pavement, but it could also affect the overall control and ease of use. And sure enough, that's something you want to get away from.
So, when this bike performs well enough in most situations, you may not enjoy it when you're going too fast on roads where you shouldn't.
Bottom Line
As long as you're a dedicated endurance rider who's expecting nothing less than unthinkable quality – then you'll find this bike an excellent choice.
After reading our Cannondale Synapse review, you're probably all sold on this bicycle. And it shouldn't be a surprise – it is exceptional in every way.
Despite falling a little deficient in the appearance field and being slightly less control-oriented than expected – it is still a fantastic bike to have.
If you're looking for setting some new personal records, achieving maximum speed on long roads, or just enjoying everything the highest quality of bikes can offer – then get the Cannondale Synapse. You won't regret it.