If there's one type of bicycles that almost everyone loves – then that's the gravel bike.
And the Cannondale Topstone is a perfect example of that. It is a combination of a mountain bike with a road one. So, it offers the best of both worlds, making a hugely versatile option for those who like to go on long trips through the road, but get consistently off-road to enjoy more of nature.
In this Cannondale Topstone 105 review, we're going over all the different factors that make this bicycle such an excellent and versatile option.
But we're also going over its downsides – so you can learn exactly what to expect from it.
So, are you ready to tackle the road or mountain with this bike? Read up what it offers first – so you can be prepared!
Cannondale Topstone 105 Bike Overview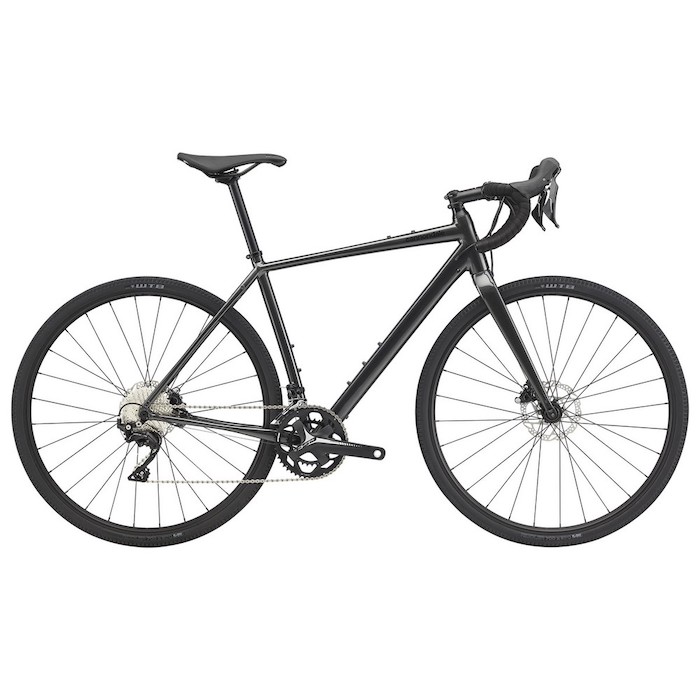 As a gravel bike – the Cannondale Topstone 105 won't care what you use it for. It can handle steep hills, trashy trails, smooth streets, and long paved roads without problems. Whatever you throw at it – this bike handles it with ease.
That's why it is easily one of the most versatile bikes out there – and for a decent cost.
You could say this is the ideal option for any adventurer. A person who's often going around trying to find a new thing to enjoy will find this bike a perfect model.
There's almost nothing to hate about it – even if you're an all-mountain or all-road biker – you'll find this one a great choice.
And it all comes down to an exceptional choice of components and a pretty reliable construction overall.
You get the Shimano 105 groupset for the brakes and the shifters. But it also comes with wide tires that can go on any terrain.
The frame boasts the ideal design for an extra-comfy experience. And with the high-quality choice for the saddle and handlebar, you'll feel like a king riding around.
It still manages to offer decent bump absorption and includes several mounts for racks, fenders, and more.
In short, it offers everything you could need in a road bike, mountain bike, or commuting bike. If you're looking for a do-it-all model – then this is your best bet.
But there's still a lot more to learn about it – so keep reading!
What We Liked
Impact-resistant and resilient frame with a fork for an extra tough bicycle in its entirety
Allows magnificent handling even in the hardest of situations with its light design
Ultra-smooth wheelset and grip-oriented tires offer top-notch riding at all times
Quick and reliable shifting system with ultra-responsive brakeset for safe and enjoyable riding
Highly convenient design with several racks, bottle, and bag mounts when needed
What We Didn't Like
The design feels more modest than expected for the type of bike it is
Its design places the rider on an extra-upright position that can be awkward for some people
Cannondale Topstone 105 Full Specs
| | |
| --- | --- |
| Brand | Cannondale |
| Colors | Graphite / Quicksand |
| Sizes | XS / SM / MD / LG / XL |
| Weight | 21.9 lbs / 9.9 Kg |
| Frame | Cannondale SmartForm C2 Alloy with StraightShot internal cable routing |
| Fork | Cannondale Full Carbon |
| Pedals | Giant Urban Fitness |
| Seatpost | Cannondale 3 |
| Saddle | Fabric Scoop Sport |
| Stem | Cannondale 3 |
| Shifter | Shimano 105 |
| Crankset | FSA Omega ME alloy at 46/30T |
| Derailleurs | Shimano FD-TY710 in Front – Shimano Altus in Back |
| Hubset | Formula RX-512 |
| Rims | WTB ST i23 TCS |
| Tires | WTB Riddler TCS Light – Tubeless Ready – 700x37c |
| Brakeset | Shimano 105 Hydro Disc |
| Handlebar | Cannondale 3 |
| Cassette | Shimano 105 at 11-34t with 11 speeds |
Cannondale Topstone Advantages
By now, you should be well-aware of its components as well as the pros and cons. But we haven't gone in-depth about everything – so we'll start with its advantages:
Sturdy and Soft
The first thing you'll notice is the capacity to be one of the sturdiest bikes in the market without losing any of its softness.
That means, it is stiff enough to prevent impacts from causing damage to the frame and/or components, but also soft enough to absorb shocks and keep you in control.
The 55mm carbon fork offers the chance to enjoy superior stability at high speeds, and with its aluminum frame – you won't have any problem with the rest of its build.
Together, they make sure that you get one of the most reliable bikes out there – without losing any of its usability.
Ultimate Handling Ease
Having a sturdy frame with a shock-absorbent suspension fork not only offers the chance to enjoy a safer and stable experience – but it also makes the whole bike more comfortable to handle.
The C2 alloy construction is one of the lightest in the market. That allows every user to handle it with so much ease that it is hard to understand how such a sturdy bike can also be such a pleasure to ride.
This pairs up with the balanced riding position, putting the rider on an upright posture that delivers ideal comfort without losing any of the control.
When you add up everything, you get one of the most stable and agile bikes in the market. It helps to go through smooth paved roads as well as rough country tracks while maintaining the quality experience.
You'll have the chance to handle curves, steep hills, fast downhills, and more without any worries.
Responsive and Safe
Sure, only a light and easy-to-handle design won't make your bike the best. That's where the Shimano 105 group-set enters into play.
You will get an excellent set of brakes and shifters to get your performance to a whole new level.
With the 22-speed drivetrain and the responsive shifters, you won't have any problem changing speeds to meet your demands. Whether you're going downhill and want to be careful, or you're going uphill and want maximum torque – this bike changes speed in a breeze to let you achieve max performance.
And when you add the super-fast Shimano 105 brakes – then you'll enjoy excellent stopping power no matter what.
You could be riding around the city or trailing on a rough path, and it will always have decent stops to help you feel safe every time. Ride on gravel or ride on dirt – you can enjoy this bike without issues.
Ideal for Long Trips
One thing that sets the Cannondale Topstone apart from the competition is the massive level of practicality.
It offers the chance to mount fenders when needed with bolts. Yet, you can get the bolts out if you don't need the fenders.
You can also have the chance to add up multiple bottle mounts if needed. There are different mounts so you can carry around as many water bottles as possible, along with top-tube storage so you can carry bags and the like.
Finally, you get a downtube mount so you can set up big frame bags when needed. It will help you make your bike even more convenient. And when you add the chance to change the seatpost to a 27.2 dropper, you add even more off-road capacity with tons of comfort for long ranges.
Smooth Yet Resilient Wheels
Another fantastic thing about this bike that makes you feel like gliding over pavement or dirt when riding is the excellent wheelset.
You get a WTB ST i23 TCS set of rims with WTB Riddler TCS Light tires – tubeless-ready to provide the resilience and overall smoothness for fantastic riding experience.
The grip and overall comfort on the road will be fantastic. Even when wet, the tires will make it easy to brake, turn, or do whatever you want safely. And on dirt, they manage to provide extra traction, so you're never put in dangerous situations – even in the trickiest of trails.
Cannondale Topstone 105 Disadvantages
Now that you're aware of some of the advantages, let's go over its downsides. Here, you'll learn what things you may not like about this bike:
Paint Could Be Better
The bike is not ugly, per se. In fact, it looks pretty decent for the cost – especially those who love simple designs that don't attract much attention.
But that's something we also think could be better. If you're making a mid-range bike that can handle all kinds of environments – make it look like so.
Overall, though, it looks decent. But we think the paint job could be a lot more enticing, especially for its do-it-all performance.
Too Upright
While it is decently comfortable for most people, the upright position can be a no-no for some.
Especially in those long trips where it is necessary to feel as comfortable as possible – the bike loses some of its attractiveness.
Luckily, it offers the chance to swap the seatpost and make it less upright. And if you want an even more comfortable feeling, using it with a flat handlebar is also totally possible.
Bottom Line
The Cannondale Topstone 105 will put you on another level of convenience and comfort. Riding will be a total pleasure, whether you're on a dirt road or a paved one – it will handle everything with ease.
You only need to consider its slightly dull design and color options. If you're someone who prefers more colorful builds, this one may not be for you. And if you're expecting a super relaxed position for long trips – then you may find it a little too upright.
But overall, it is an excellent and well-rounded bike to have. This Cannondale Topstone 105 review, makes it easy to spot every single one of its features and drawbacks – so you can be well-prepared before deciding whether it's an excellent buy or not.