Affordability always makes up for almost everything. But when it comes to bikes – it must be met with decent results. Otherwise, you're getting a bad product.
Luckily, the Giant Escape 2 is the perfect example of an above-average bike that offers superb results for a small cost.
In this Giant Escape 2 review, we're going to show you everything there's to know about it.
From its super versatile design that allows users to take it anywhere without problems, to the extra-rugged build that makes it more durable than expected – this is a bicycle for entry-level users who want a high-end model.
It won't disappoint because it doesn't go over the top with its components. Instead, it uses the right ones to provide a decent experience without promising more than it can offer.
Want to know what all these components are and how it works with them? Then read up!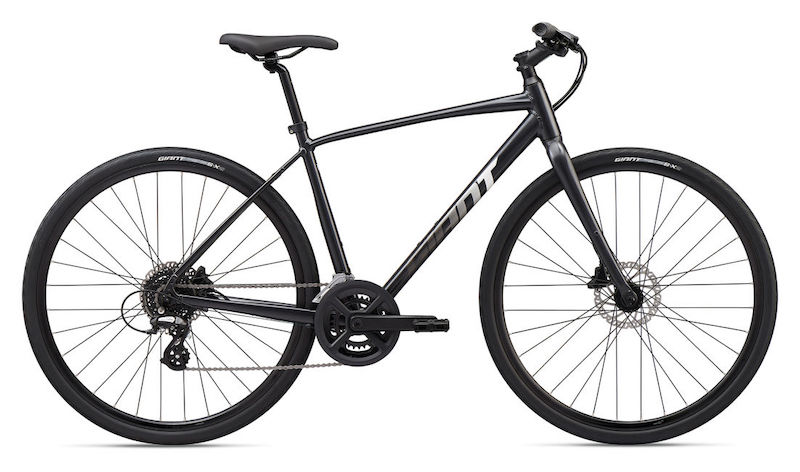 To make it brief, Giant Escape 2 is a perfect bike for beginners who want to get rid of the steel frame to make something lighter yet more versatile and practical.
With its ALUXX frame, along with an excellent fork system, you can expect it to surpass expectations in terms of handling.
But there's a lot more to it – like its superb comfortable saddle, the well-made seatpost for suspension effectiveness, and a highly responsive brake system.
It also works off-road if needed. With a helpful set of tubeless tires along with a sturdy construction overall – this bike can take you anywhere without losing comfort or failing on the way.
Moreover, it looks like a stylish bike that may not be able to take your far – but it does. This bike is always ready to move from your garage – whether you want to ride it across town or down the mountain. It will be eager to help you out in a smooth and reliable manner – while still looking neat.
Putting it all together delivers an exceptional experience for an affordable cost. But it doesn't perform as well as its more expensive cousins – yet it manages to be ideal for those who want to step up their game from the standard commuting bike.
If you want a bicycle that will not disappoint while offering excellent results on long trips as well as off-road rides from time to time – then this is a perfect bike.
Now, let's go explain everything else with depth!
What We Liked
Very well-made aluminum construction ensures a highly reliable experience with extra lightness
The good-looking design makes it look like a high-end bicycle despite its terrific low cost
Super-comfy handlebar and saddle allow an excellent posture for long and short rides
Easy to handle and super responsive brake allow a more secure experience overall
Smooth wheelset and tubeless tires provide outstanding worry-free rides
What We Didn't Like
Heavy and awkward pedal designs may not be ideal for everyone
Shifting speeds takes more time and effort to achieve than expected
Giant Escape 2 Full Specs
Brand: Giant
Colors: Gunmetal Black / Metallic Navy
Sizes: Small / Medium / Large / X-Large
Weight: 21 lbs / 9.5 kg
Frame: ALUXX-Grade Aluminum disc
Fork: Alloy with rack mount
Pedals: Giant Urban Fitness
Seatpost: Giant D-Fuse
Saddle: Giant Sport Comfort
Stem: Giant Sport with 15-degree rise
Shifter: Shimano Altus
Crankset: Forged Alloy at 30/46
Derailleurs: Shimano FD-TY710 in Front – Shimano Altus in Back
Hubset: Alloy at 32h with loose ball bearing
Rims: Giant GX Disc
Tires: Giant S-X2, Puncture Protect, 700×38
Brakeset: Tektro HD-R280
Handlebar: Giant Sport XC
Cassette: Shimano CS-HG31 at 11×34
Giant Escape 2 Advantages
When going over the different features of a bike, we always start with the positive. So here you have – all the best things you'll find on the Giant Escape 2:
Ultra-Comfy Design
While this bike stinks of versatility, we can safely say it mostly comes down from the comfort it offers.
The geometry of its frame allows the user to feel balanced. That means he/she won't have to achieve an awkward or difficult posture to ride this bicycle around with ease.
This happens mostly when considering the D-Fuse seatpost and handlebar design. With the seatpost, you can sit comfortably at the right height, so you can reach the handlebar with ultimate ease and without over-stretching or making too much of an effort.
Apart from that, the seatpost comes with a D-shaped composite that dampens impacts well enough for the cost. This ensures you feel safe and comfy enough when riding over difficult terrain. And that's something not many bikes do – so it is impressive.
Stable and Easy-to-Handle
The real advantage that we can't leave behind is the lightness of its frame – the ideal one for handling with so much ease that you won't believe it.
This ALUXX aluminum frame is so light that you can grab it and bring it around without making much of an effort. And when you're riding, this allows outstanding handling, so you never lose control over the bike – no matter where you're biking at.
Pairing the shape of its frame with its lightness ensures an excellent experience from the moment you sit on the bike to the moment you hop down.
Excellent Responsiveness
Having a comfortable ride with an easy-to-handle design is not enough. You also need a responsive system that does exactly what you need when you need it.
Here's where you'll find the disc brakes to perform amazingly well. With a frame and fork designed to meet these disc brakes, you can expect no less than a fantastic performance.
Pair this up with the efficient 8-speed gear system, and you'll have the chance to tackle uphill streets as well as downhill tracks without making more effort than needed. Just set the right speed, and you'll be ready to go over any surface with ease and enough control.
Interesting Appearance
Despite being one of the cheapest bikes of its kind – the Giant Escape 2 still manages to look amazingly well.
It offers a modern design to boost your appearance and confidence. You won't have to bring the ugly and awkward design of other entry-level bikes that are often just horrendous. Instead, you can enjoy something more stylish that will stand out.
This goes well with an extra-practical set of features – including the integrated mounts for racks and fenders. It will look well enough, but it will also provide the extra help for bringing gear around, shopping without worries, and more.
Rugged and Reliable
Lastly, there's nothing better about this bike than its sturdy build. With the 6061 alloy frame and durable chassis, you can expect this bike to stand all kinds of use without breaking a sweat.
Along with the oversized fork steerer tube tech, the bike allows smooth steering without transporting shocks to your arms.
This fork is made of composite material, adding up to an even more lightweight design that still manages to dampen impacts with effectiveness.
But sure enough, all of that stays behind when you consider the Giant EasyRide Tubeless tires. They are totally puncture-resistant – and provide a smooth ride even in the hardest of terrains.
You will get the ideal ruggedness to take the bike anywhere you go without worries – and that's something you don't often get for a low cost.
Giant Escape 2 Disadvantages
Knowing the positives of a bike is always helpful. But nothing compares to going deep into its drawbacks – that makes you more prepared for whatever it has to offer. Here are a few disadvantages to consider:
Not the Smoothest Shifting
While the shifting system offers decent results without feeling too rough – it is still not the best you can get.
You will still have to struggle a few seconds before the system changes speeds completely. And when you're on the road or need something responsive, then you'll feel like that's not enough.
For demanding users, having a slow and slightly tough drivetrain feels like a total mistake but you can't expect much more for the price. It is still decent.
Pedals Could Be Better
While you may be able to ignore the shifting system – you won't be able to like the pedals in the slightest.
These are the most cumbersome and most awkward pedals you can find. They are not necessarily awful and uncomfortable – but they're clearly not ideal if you want to ride around with ease.
Especially when it comes to pedaling fast and smoothly, you'll feel as if the pedals make it harder with the heavyweight and rough design. In that case, you'll wish to have something better.
Replacing the pedals will be a must-do thing if you want to enjoy this bicycle to the max.
Bottom Line
After going over every single benefit and drawback – you're probably still a little confused about whether the Giant Escape 2 is worth having.
Well, we can tell you that this bike is an absolute steal for the cost. While it won't be the best when shifting or pedaling, you'll feel like it is good enough for everything else. Considering how affordable it is – you won't complain much after all.
And it's all mainly thanks to the super-light frame and the ultra-comfy design. You won't find many bikes on this price range being so balanced in the comfort field.
So, did this Giant Escape 2 review help you learn more about it? If yes – don't hesitate to get it now. You won't regret it.