Looking to get a unique new toy for your child on his birthday? Then nothing will match the adrenaline of having a dirt bike.
The Razon MX350 is an electric scaled-down bike that children from 13 and up can enjoy to the max in the safest of ways.
In this Razor MX350 review, we're explaining every single upside and downside to consider. You'll learn whether taking a children's bike back home will be a wise decision or not.
For us, there's probably nothing more enticing than a dirt bike at a young age. Especially if you want your child to be adrenaline-driven – then you won't find any better gift than this.
But with so many things to consider – we need to go straight to the point. So let's head into the good stuff and learn!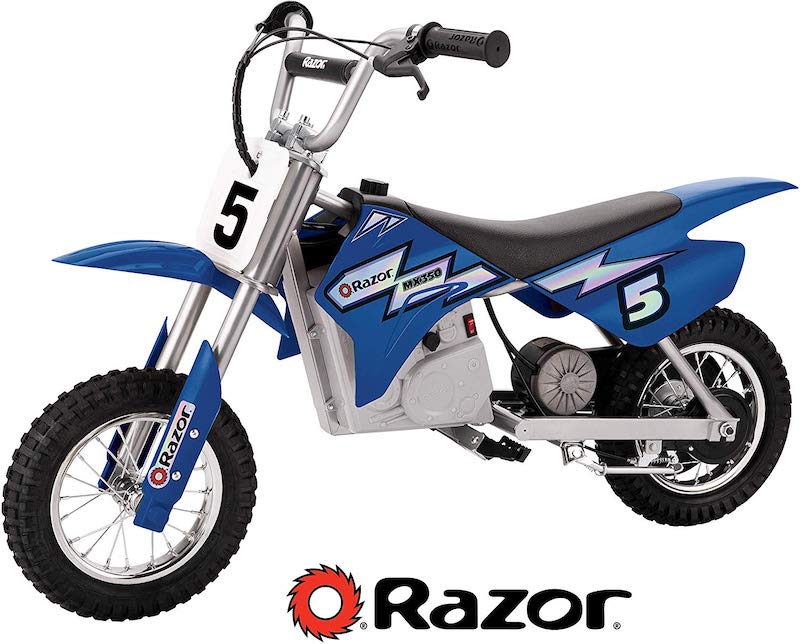 One thing that sets Razor apart from the competition is the unquestionable focus on providing safe and super entertaining electric machines for kids to enjoy. And sure enough, the Razor Rocket is not an exception.
This is one of the best examples as to why Razor is such a giant in the electric scooter and bike market. It provides some of the most user-friendly options for children, ideal for taking over the road in neighborhoods, or slightly dirty terrain off-road.
For parents who want to give their children a different toy than the regular – this is a perfect choice.
Capable of going up to 14 miles per hour and deliver a stable experience with its knobby tires – the bike is an ideal choice for those children who want an adrenaline-filled experience.
The bike has a lot more to offer, considering the high-torque motor that sounds similar to a normal-sized motorcycle, and a responsive brake that ensures excellent stopping power when needed.
Apart from all that, it looks enticing enough for almost any child – especially with its different color options.
Overall, this is a bike that will change how any kid has fun. Despite being primarily designed for teenagers over the age of thirteen – this model works for anyone who can reach the handle and the floor when sitting as long as they aren't heavier than 140 pounds.
Does that sound like a great idea to give your child? Then you'll want to know more about it. So keep reading!
Razor MX350 Advantages
Reading our overview will teach you a thing or two about this bike. But that won't be enough if you truly want to be informed before making a final decision. That's why we're going over a few of its benefits in this section:
Ideal for Dirt and Pavement
The first thing you'll notice is that the bike boasts pretty knobby tires. With these 12-inch pneumatic tires that can grab the floor like no other – you can take your child to the street or dirt track and enjoy a fantastic Sunday.
This happens thanks to the combination of an electric engine with such grip-oriented wheels. Your child can ride around without fear – it will perform well enough even in the most challenging surfaces.
Sure enough, it won't be the best to take into wet ground or muddy places. But everywhere else that offers enough safety will be more than ideal. And not many electric bikes for children provide such an advantage.
Safe and Easy to Use
Something that truly stands out from this bike is how much safety measures were put into its design.
The first thing is sturdiness. If you want your child to be safe when riding, then you need to be sure that it is a well-built bike that won't break with a slight impact. And sure enough, this bike won't.
Then, you want something that offers enough traction to prevent your kid from slipping off the dirt floor when riding. Of course, the knobby tires offer the perfect grip for that.
And lastly, you want a vehicle that stops immediately and with care when the young-one hits the brake. Without leaving any doubts, the left-hand-operated rear brake doesn't disappoint.
As long as your kid doesn't take the bike to a moisty place or directly into the water – then it won't cause any problem at all. If you want a safe bike for your child, then this is it.
Fast and Fun
But safety and ease of use don't make a bike much fun. That's where the speed enters into action.
You'll want your child to get acquainted with how fast a bike can go. But sure, you don't want him/her to get addicted to it either.
So, offering 14 MPH or 22.5 KMH of top speed – you can be sure that any kid can enjoy it to the max without getting into dangerous situations.
What takes the fun to another level is the lack of pedaling. Being totally electric makes it an environment-friendly bike that is super easy to ride – adding more fun to the experience.
Powerful Yet Quiet
As a battery-powered bike, you would expect it to be slow and gentle. But it is actually the other way around.
This bike is decently powerful for any kid. So, even an experienced child may find it entertaining enough to give rides around with no issues.
But the real advantage comes from its quiet operation. While it has a sound that resembles larger bikes, it is so low that you will barely notice when your kid is biking around.
Adjustable and Versatile
Finally, you can let your kid use this bike with enough comfort.
You won't have to worry about the posture, hands, or rear of your child. Instead, it will be comfortable enough with a decently-sized saddle, adjustable handlebar with rubber grips, and proper cushioning on the seat.
Add up the fact that it supports 140 pounds in total, and you'll be happy to know that almost every child up to the age of thirteen can use it without problems.
Razor MX350 Disadvantages
So, if this children's motorcycle looks so exciting – how could it have downsides? Well, we can't explain why, but we can surely tell you what. Here are some drawbacks that this bike comes with:
Super Small Design
The first thing you'll notice at first sight is that this bike is not really a bike for thirteen-year-old kids.
While it looks well on pictures, the design is way smaller than it seems. So, most kids over the age of ten will probably struggle trying to sit up and enjoy a comfortable ride.
Before you make a final choice, we recommend getting something that feels more comfortable for your thirteen or even eleven-year-old children. But if your child is younger than that and small enough – then this bike won't be much of a problem to use.
Battery Could Be Better
Another feature we had to mention is the low battery life it offers. At only 30 minutes, it leaves a lot to be desired.
You can't expect one of these bikes to last 2 or 3 hours on the road like a real motorcycle, or at least like a gas-powered one. But getting up to an hour would have been enough.
Sadly, this bike only lasts 30 minutes. Just imagine taking your child to the dirt track several miles away from home to enjoy only 30 minutes of total fun (sometimes even less).
That would be a huge disappointment. And well – that's what you get with this electric dirt bike from Razor.
Frequently Asked Questions
While the previous sections were probably enough to decide whether this bike is an excellent choice – there are still a few things you may need to know. Here are some common doubts people have with this child motorcycle:
Is this an off-road bike for children?
Yes, it can handle dry dirt tracks without problems. We recommend it only for mild paths such as non-competitive trails with no obstacles.
Can the Razor MX350 be used for competitions?
This is more of a toy vehicle than a competition model. So, we wouldn't recommend using it for any competitive purpose.
Does this bike need any maintenance?
Yes, you will have to keep it clean, adjust brakes, and charge and re-charge the battery when needed. After some time, it will need battery and tire replacements, as well.
Bottom Line
As you could see in our Razor MX350 review, this bike is a perfect toy for most children under thirteen years old.
It is a speedy bike that can take over the paved road as well as the dirt trail without problems. Offering 14 miles of top speed – your kid will also feel like in an action movie.
But be sure to understand that it is also smaller than it should – so over-grown tall kids may not fit on it. And if you're expecting an hour or more of total battery power – then you'll be disappointed.
Overall, though, it is a pretty decent choice – especially if you want to give any child a fun surprise.
For those adrenaline-driven parents who want their kids to enjoy the same things – this would be an excellent first-time driving experience. Don't hesitate!