Touring is one of the few activities you can do with a bike that will surely change your whole perspective of riding a bicycle. And when you do this with the right bike, then it gets even better.
That's why we needed to make a Salsa Marrakesh review, so we could explain how this exceptional two-wheel machine can take you anywhere on the road, and how you can get the most out of it.
But as the Salsa Marrakesh comes in various models to consider and features to think about, we had to review all three sub-models along with the frameset. This will help you decide whether this bike is worth it for you or not.
Overall, this bike has nothing to complain about. For its price and quality, this bike is more than ideal – so dive with us into what it offers!
Why Salsa Marrakesh?
The first thing that makes the Salsa Marrakesh a brilliant bike is how well it is made for the road. Even the smallest of components are geared towards a more comfortable & smooth experience to take on long trips.
You can tackle practically any type of path as long as it is not too muddy or too dirty. And you can pack up as much gear as needed, thanks to its excellent set of mounts & racks.
In short, if you want to take a long trip anywhere in the world, we recommend no other bike than the Marrakesh from Salsa.
It's undoubtedly among the best touring bikes you will find. This bike takes convenience to another level while providing a highly comfortable design for non-stop riding hours.
If you love tackling the road consistently, you won't find any better bike than this.
4 Salsa Marrakesh Models to Consider
So, the bike is impressive, right? Well, there's more to it than that. Here are its 3 different available models reviewed and a short explanation of what its frame set offers: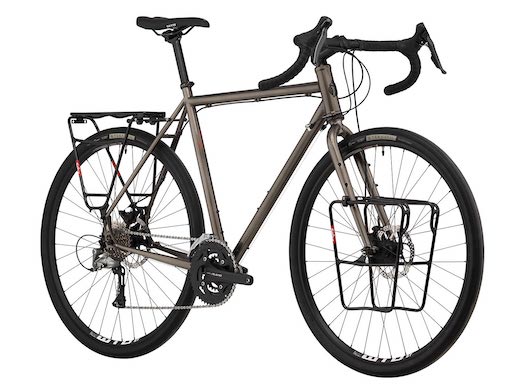 The first model comes with a Shimano Sora drivetrain. For that, you can expect a high-end performance that will provide no less than ultra-responsiveness and next-level speed changes.
Combining Alivio Trekking derailleurs with the Shimano Sora shifters, you won't have any problem slowing down or torquing up the bike when needed.
This pairs up well with the TRP Spyre-C brakeset, which is excellent for responsiveness and stopping power. When you're on the road, it won't be necessary to make an extra effort trying to stop when needed – the brakes will do it in a breeze.
Apart from that, you can feel pretty comfy while riding it. The combination of a WTB Volt Sport saddle with Salsa Cowchipper handlebar will let you tackle different roads without feeling any type of discomfort – even for long hours.
And sure enough, we can't leave the perfect geometry of the bike. It is upright to feel comfortable but also dropped a little so that you can achieve proper speed & torque when needed. For a road bike, that's a lot to enjoy.
As a final feature to consider, we can't leave the rack mounts behind. Here, you get mounts for the front & rear, as well as a center set of mounts so that you can add up a custom bag if needed (or water bottles).
Overall, the Marrakesh Sora boasts every single feature that makes this model an excellent option. It also comes with a top-notch drivetrain and comfy set of components for extra enjoyment. Touring with this bike will be a total pleasure.
Pro
High-quality Sora drivetrain for responsiveness
Super effective TRP Spyre-C brakes for excellent stopping power
Highly comfortable saddle & handlebar design
Perfect geometry for maximum speed & comfort
Hugely practical design with mounts all around
Cons
Limited color options
Somewhat heavy at 31 pounds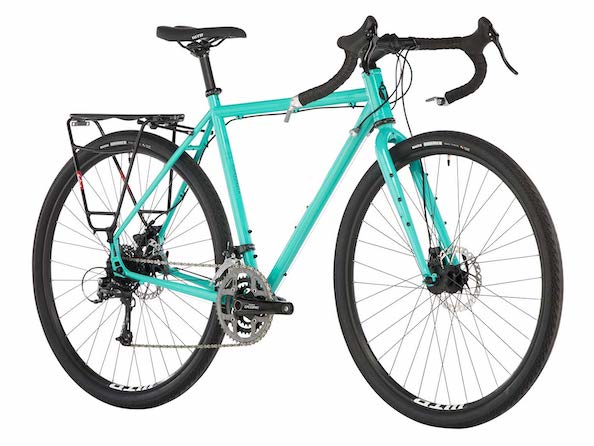 As the second option in the list, we have the Marrakesh Deore. It is essentially the same bike as the previous one, but with a few changes – mainly on the drivetrain, wheels, saddle, and tires.
It boasts the same quality Marrakesh CobraKai CroMoly frame, ideal for the touring posture that everyone loves. But this pairs it up with a different set of gears, starting with the Shimano Deore derailleurs, as well as a SunRace CSM90 cassette and a KMC X9 chain.
When you add the Shimano 3×9 Bar End and the Shimano Deore crankset, you can be sure this bike will perform every speed change with speed & effectiveness. Whether you want to enjoy a speedy ride on flat roads or get more torque for uphill battles against the pavement, this bike will let you do so.
We can't leave the quality of the brakes behind. Here, you're met with the Hayes CX-Expert braking system – ideal for responsiveness and speed. As soon as you press those brakes, the bike will stop with no effort.
As for comfort, you're met with the WTB Volt 142, a thin yet decently comfort seat for most people. Along with the Salsa Cowchipper handlebar, you shouldn't have much of a problem enjoying long rides on this bike.
Lastly, we need to mention the wheelset. Here, you will find the Deore QR 36H rims attached to the Maxxis Roamer tires, and together they ensure maximum smoothness and reliability. Even in tricky roads, you'll find them excellently reliable.
Pros
Brilliant Deore drivetrain for speed & results
The unique braking system for ultra-responsive stops
Decently comfortable design
Reliable and well-made wheelset for grip & durability
Highly enticing blue or tan color options
Cons
The thin saddle may feel slightly uncomfortable
Not the best tires for dirt roads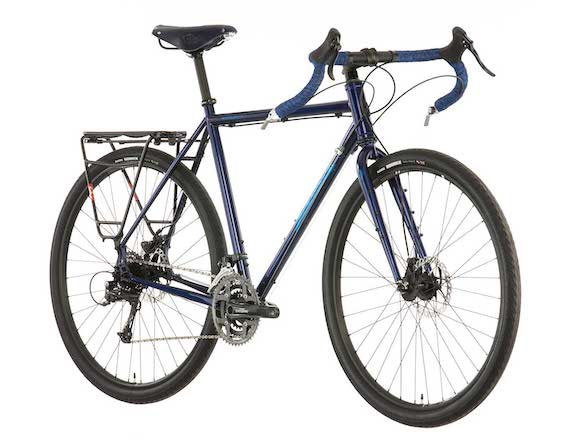 As the last bike in the article, we need to go over the Marrakesh Drop Bar Brooks. It comes with a different type of saddle, as well as a modifiable seatpost.
You will encounter the same quality in the drivetrain as the previous model, boasting the Shimano Deore set that offers perfect responsiveness. And with the brakeset, you will also meet the Hayes CX Expert – so you can stop at any time with maximum power.
The real difference comes from the components. Here, you will find a Cane Creek Series 5 headset, a Salsa Guide stem, and a Salsa Cowchipper handlebar with Salsa Gel Bar Tape. These are similar to previous models.
It starts to change on the seatpost & saddle, where you meet the Promax and the Brooks B17 Medium. They are perfect for extra comfort, as well as a more modifiable experience so that you can sit for hours on the bike without any discomfort.
The geometry of the Marrakesh Cobra Kai CroMoly frame and the quality of its components ensure extra smoothness while riding. Yet, what it stands out for is the overall posture – making you ride in a relaxed position so that you won't have to suffer in any way.
Finally, you can add up the wide array of mounting points. This offers the chance to get racks & bottles around with ease so that you can be utterly prepared even in the longest of trips.
If you're going for the most interesting of all Salsa Marrakesh bikes, this one should be it.
Pros
Quality saddle & seatpost for extra versatility
Decent Deore drivetrain for quality riding
Boasts several rack-mounting points for convenience
Quality headset ensures maximum control
Well-made handlebar for excellent handling
Cons
Thick & large saddle affects available space
Only comes in dark blue color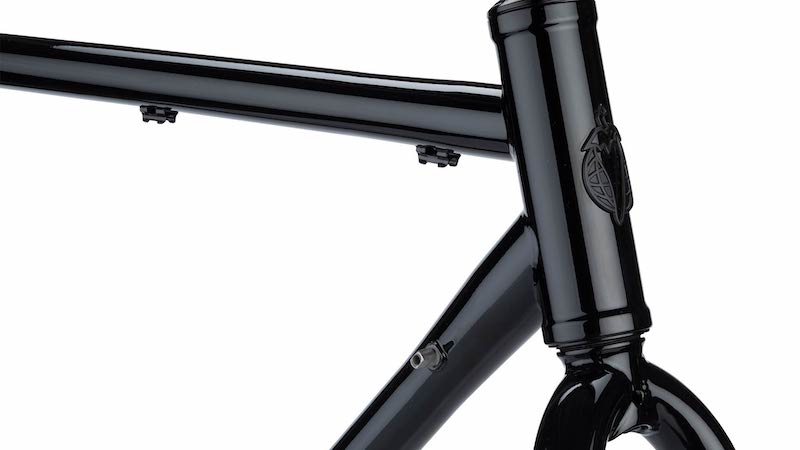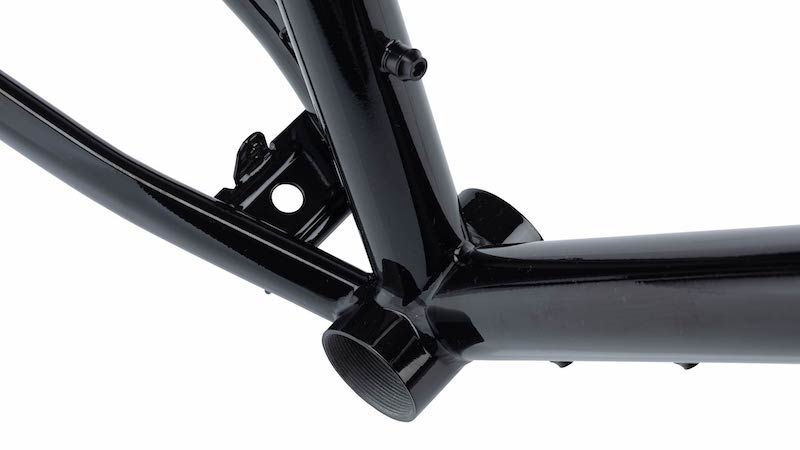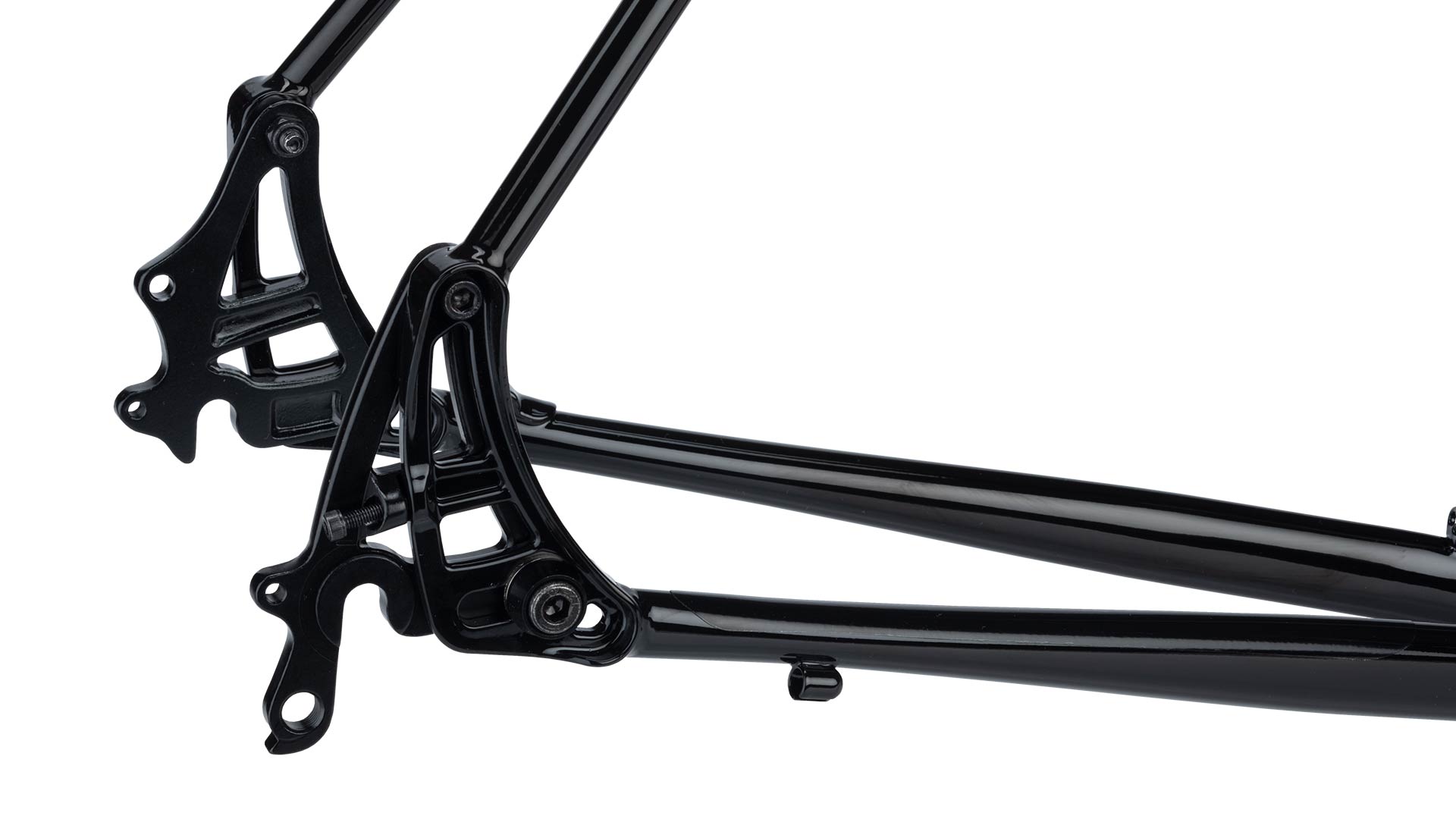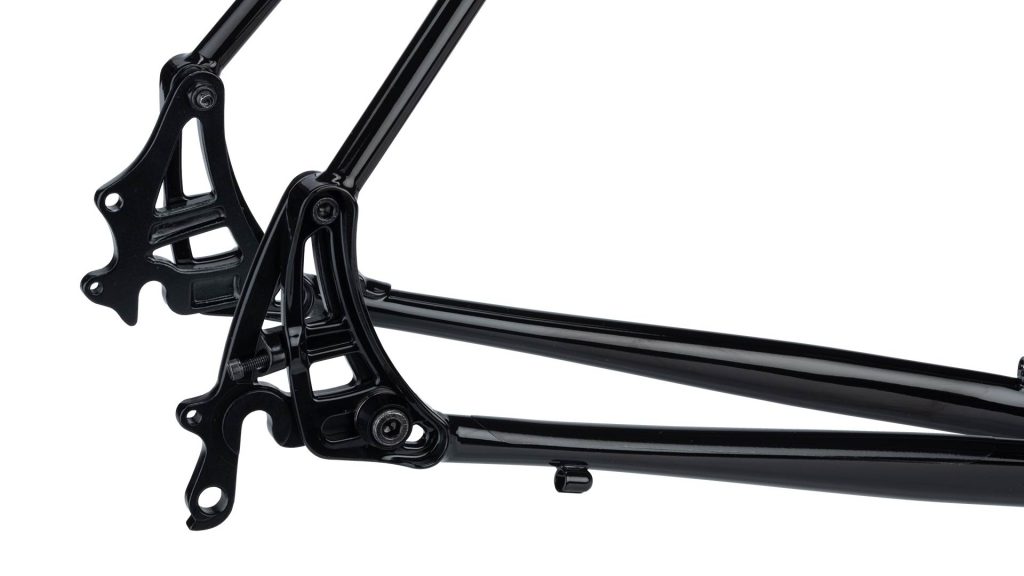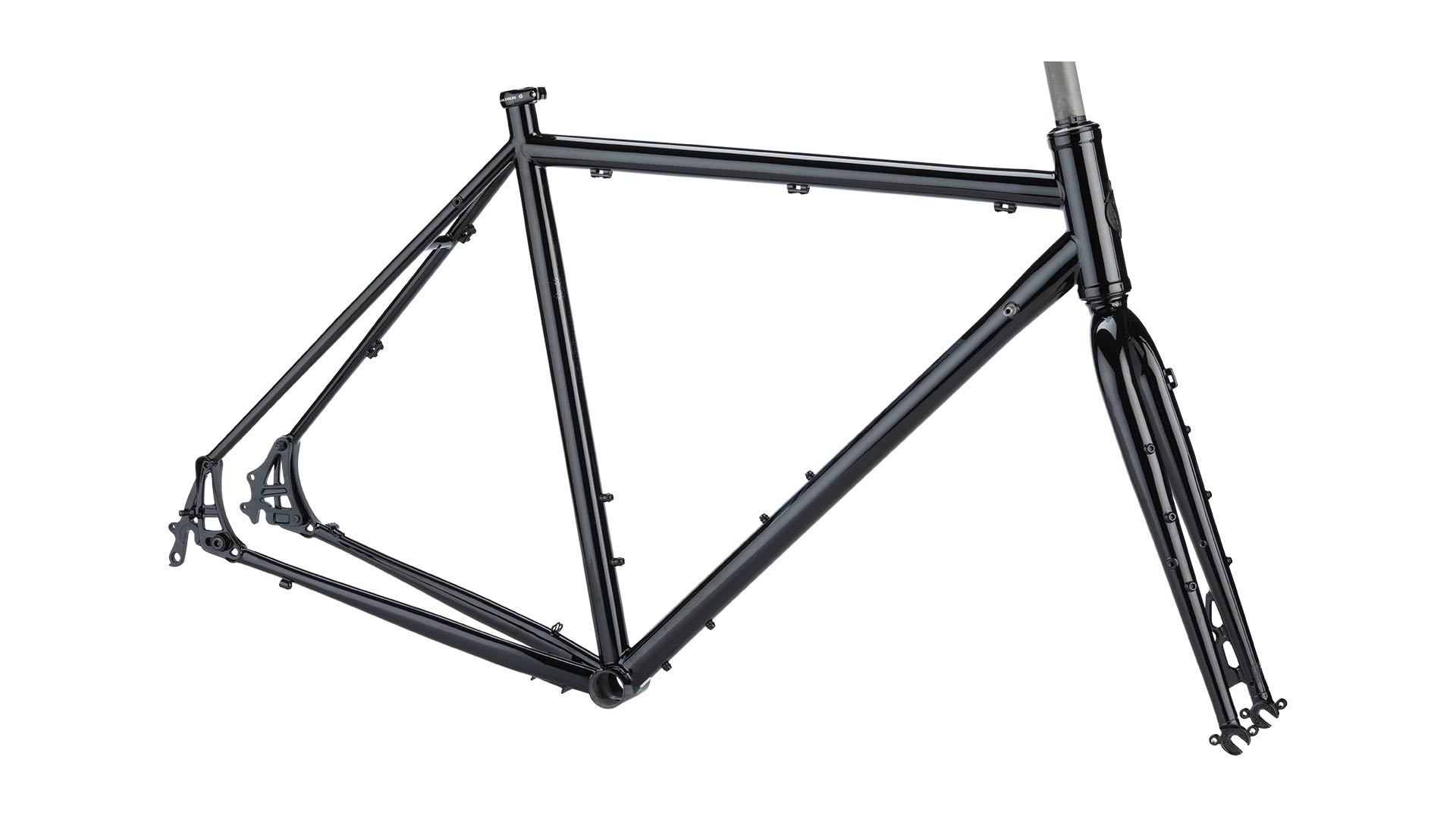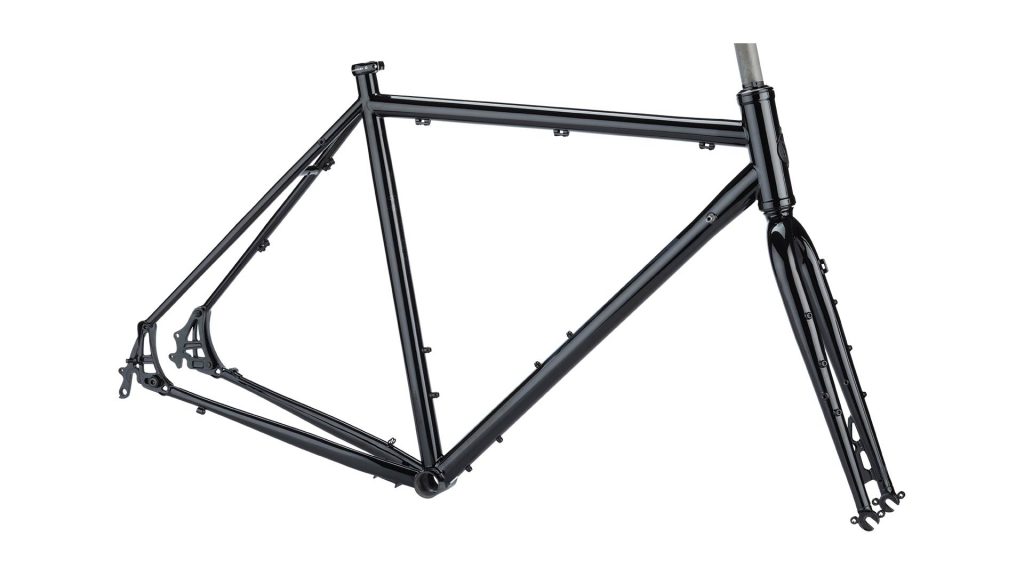 We couldn't go over the Marrakesh bike without reviewing its frameset.
This is an excellent model in its entirety, boasting a durable CroMoly construction that is set to surpass expectations in terms of durability & weight.
At only 8 pounds of total weight, you can build a pretty light bike with the right components, making it an excellent model in its entirety.
Let's not forget that it also comes with a decent fork system. It will help you dampen some of the worst road obstacles while offering the chance to handle with total ease in any situation.
Something that truly sets it apart is the wide array of mounting points. This offers the opportunity to add different racks and bike bags, bottles, and other accessories you may need.
When it comes to taking a long road trip with a bike, few frames deliver such an advantageous experience like the Marrakesh.
And with the black color that it comes with, you'll have enough to pair up this bike with any type of component. As long as it fits the kind of frame, you'll be set to enjoy all sorts of experiences.
Pros
Quality CroMoly build for lightness and durability
Excellent fork ensures excellent handling
Dampens obstacles & impacts well enough
Allows installation of racks & bottles all around
Offers perfect geometry for long & comfy trips
Cons
Limited color options
Only works well for touring bike builds
Bottom Line
As you can see, the Marrakesh is an excellent bike for anyone who wants to tackle the road for hours non-stop.
It is not a competition bike, nor a bike for the off-road trail – but an unbeatable road model that can deliver exceptional results.
This Salsa Marrakesh review made it clear how it surpasses expectations in each one of its available options. And it also explains how its frameset is one of the best for touring bikes.
As long as you can handle some of its small drawbacks like its heaviness & discomfort on dirt trails – you won't have any problem getting the max out of this bicycle.
Want to try it out? Then don't hesitate and get it now. You won't regret it.