When it comes to saddling up a mountain bike and heading to the hills – you always check everything from the drivetrain to the tires and so on. But when you have a bike that makes it all effortless and more reliable – then you don't have to do much of that.
In this Salsa Timberjack review, we're showing one of the most secure and fun hardtail bikes out there. With a straightforward geometry, you can achieve tons of stability while biking out there.
You can use it for single-track or bike-packing in harsh tracks – and it will always deliver perfect results. There's almost no limit to what you can ride around with the Salsa Timberjack.
If you're thinking about getting this bike, then you'll want to know what it offers – so keep reading!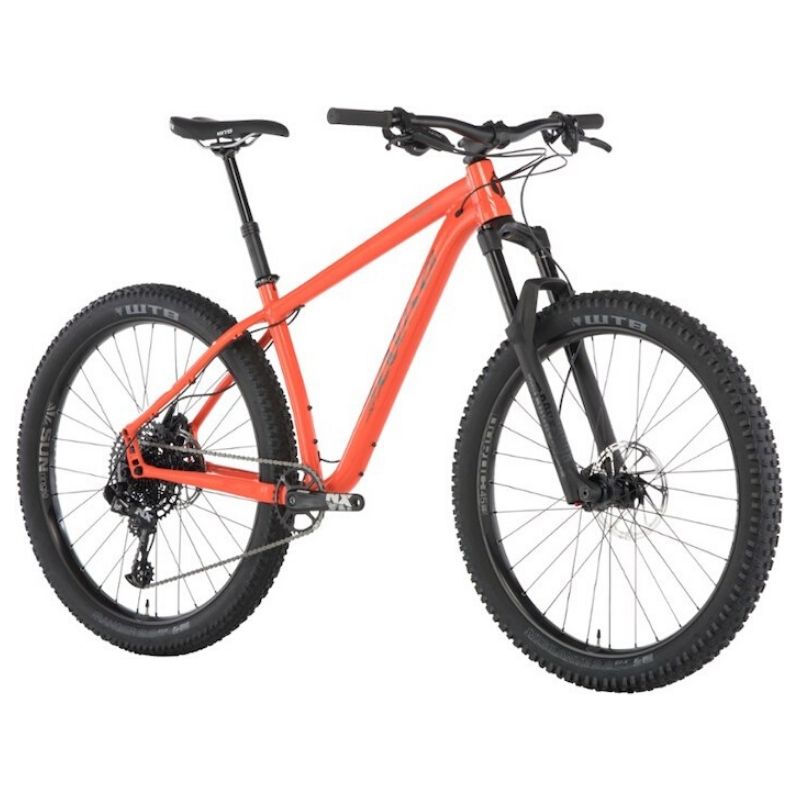 First and foremost, the Salsa Timberjack NX Eagle is a pretty solid mountain bike. It has nothing to complain about as long as the user expects decent riding smoothness and straightforward operation.
This bike combines some of the highest-quality components to provide a decent experience in downhill riding as well as uphill. Both feel smooth enough, so you can go up and down mountains without feeling too stressed.
You won't be able to achieve outstanding speeds, but it still makes you feel capable enough to get the job done. Whether you're bike-packing or simply trailing once or twice a month – this bike will meet your needs without problems.
The tires are fantastic for any purpose, especially with the consistent size across the rear to the front – so you can achieve ultimate stability.
In terms of security, it doesn't let you down either. You can expect a pretty stable riding all around the spectrum, even in the harshest of environments.
And sure enough, it still manages to offer 12 speeds so you can go with whatever you need depending on the situation.
There are many other adjustments to talk about – including its seat-post, its drivetrain, and even the bottle mounts. Everything allows high-level customization so you can get the most out of it without a single complaint.
Overall, it is pretty well-made, comes in five different sizes, and even manages to look pretty good with its red and orange color.
If you're going on a trail-biking adventure and want something decent – the Salsa Timberjack NX Eagle won't disappoint you.
Now head in and learn more about the different things we liked or hated about it.
What We Liked
Super-versatile hardtail design works for easy rides on the street as well as hard trails
Comes with the rear-rack mount so you can pack up a few bags of gear for extra convenience
Also boasts three bottle mounts so you can bring extra water when needed
The ideal 12-speed drivetrain with an adjustable chain for top-notch performance
Extra reliable WTB tires offer ideal traction, resistance, and comfort on almost any trail
What We Didn't Like
Large WTB front tire may be too large and effective for long trips
The front-end feels slightly unreliable on uphill trails
Does not come with pedals which can be a huge annoyance
Salsa Timberjack NX Eagle Full Specs
| | |
| --- | --- |
| Brand | Salsa |
| Colors | Red/Orange |
| Sizes | XS, S, M, L, XL |
| Weight | 23 lbs / 10.4 kg |
| Frame | Aluminum |
| Fork | RockShox Sektor RL at 130mm travel |
| Pedals | HTI-P15 plastic |
| Seatpost | Trans-X Dropper JD-YSP15L |
| Saddle | WTB Volt Comp |
| Stem | Salsa Guide Trail |
| Shifter | SRAM NX Eagle |
| Crankset | SRAM NX Eagle PS – 32t |
| Derailleurs | SRAM NX Eagle |
| Hubset | Sun Ringle SRC |
| Rims | Sun Ringle Duroc 45 32h |
| Tires | WTB 27.5 x 2.8 – Vigilante TCS Light/Fast Rolling in Front-Ranger TCS Light/Fast Rolling in Rear |
| Brakeset | SRAM Level at 180/160mm |
| Handlebar | In XS/S the Salsa Salt Flat – In M/L/XL the Rustler |
| Cassette | 12-Speed |
Salsa Timberjack NX Eagle Advantages
You already know a thing or two about the Salsa Timberjack – but that's not enough. We want to give you a general and brief idea of what it offers, so you can go and buy it with more confidence if you're going for it. Here's what you need to know about its positive sides:
Reliable Off-Roading
The entire geometry, as well as its fantastic components, makes it one of the most reliable mountain bikes out there.
As a hardtail, it reeks in sturdiness – boasting an aluminum 6061-T6 main triangle and chain. That allows the frame to stand almost any impact, as well as provide ultra-responsiveness and light enough system for off-roading.
The geometry offers a short stem with a long top tube. Together, they ensure a confident position so you can sit with ultra-comfort without losing stability.
You could say this bike stands out for providing the same wheel size for a more consistent front-end experience. From downhill to uphill – you'll feel how everything stays almost the same.
It doesn't matter if you pick the XS, S, M, L, or XL models – they all come with the same reliable construction so you can expect no less than fantastic results.
Smooth Trail Riding
If there's something about this bike that stands out from the competition is the broad set of tires. It comes with 27.5 by 2.8 inches tires – ideal for excellent traction without leaving bump resistance behind.
You can go downhill or uphill in a breeze, without having to make the extra-pedaling or losing stability due to thin tires with no traction.
Apart from that, you get the 12-speed SRAM Eagle drivetrain, ideal for helping you get a smooth ride even in the harshest of paths.
The entire bike is sturdy and easy to handle, more intuitive than the standard, so you won't have to make an extra effort trying to control it.
All of that pairs well with the fantastic 130mm travel of the RockShox Sektor RL suspension fork. Even if you hit the trail hard and love to jump around – this suspension will make the hardest of impacts feel like a small bump.
Comfy and Versatile
Everyone loves to sit on a bike and ride around without booty problems. And sure enough, the Salsa Timberjack offers precisely that kind of experience.
It all starts with the Trans-X dropper seat-post, which allows the ability to drop or lift the saddle, depending on your needs. Whether you're going on a tough descent and want to bring it down to prevent tricky landings or bring it up to ideal handling when trailing up – it works at all times.
But with such comfort, you can't leave behind versatility. The drivetrain allows you to go single-speed or geared, achieve FreeHub, go Rohloff, or thru-axle – whatever you need.
And this is all thanks to the versatile Alternator dropouts. You can set it forward so you can move more efficiently and with agility, or set it back for more stable downhill performance.
But if we come to versatility and comfort, we can't forget about the combination of 27.5-inches tires with 130mm fork. Together, they ensure you can glide in tricky trails without harming your legs or ending with arms pain.
Tons of Adjustments
To finish the different sets of amazing advantages you get with this bike, we need to mention how many adjustments you're able to do.
You already went through a few considering the Alternator and drivetrain, as well as the seat-post. But we didn't mention the housing cable routing for the shifting, the bottle cages, and the removable direct-mount.
Let's start with the housing cable. It comes built-in with the bike so you can adjust depending on the condition of the path. You will get exceptional shifting results, it doesn't matter where you're biking around – and it allows extra durability, so you won't have to do any upkeep for long.
You also get the multiple-bottle cage. The smallest models allow 2 bottles, while the Medium and Large ones allow up to three. But this also comes with the rear-rack mount – adding up extra convenience so you can add tons of different gear for any type of trip.
And finally, you get a direct-mount front derailleur bracket. You can remove it when needed so you can move around with a 1x build if required. Just set it up before going on the trail, and you'll be ready to take on almost any path – as expected.
Salsa Timberjack NX Eagle Disadvantages
So, you went through the different benefits from using the Salsa Timberjack NX Eagle – but you're still unsure of whether it is worth having.
Well, what better to be genuinely confident about your purchase than learning about its drawbacks? Here are the different disadvantages of this bike:
Large Front Wheel
While it improves overall stability and delivers one of the most consistent and smooth-riding experiences, the front wheel can feel pretty uncomfortable at times.
It will push you to pedal with more strength uphill and may feel like overkill in traction when going downhill – which could reduce speed.
Sure, the bike was designed to provide precisely this kind of experience. But it doesn't get rid of the fact that the wheel makes it feel more like a traction-oriented bike than something to put on the smooth mountain path.
This won't necessarily make the whole riding experience worse, but it will feel like it could be a lot better if the front wheel wasn't that big.
Front Struggles Uphill
Following the fact that the front wheel is pretty large – we can also say that the entire front-end build also feels a little unstable, especially on uphill paths.
While the front wheel may provide a slight touch of agility, especially when maneuvering around – it feels like too much when going uphill.
This will provide a slight disadvantage if you want to go uphill fast, especially if you don't like pedaling your way around. You'll also feel like the handlebar seeks to go its own way – and that can reduce overall stability and comfort too.
Those who like placing their speed to the max and achieve maximum traction from the drivetrain won't have much of a problem. But those that are accustomed to getting the smoothest uphill experience will feel like this is too much.
Many people will love it though – especially those who like to make the extra effort. But for most, this will be a little problem.
Does Not Come with Pedals
Lastly, we have to mention the fact that this bike doesn't come with pedals. That will make you spend a few hundred more on the right pedals that match not only your needs but also the whole build of the bike.
This will take some time and some effort. Instead, the manufacturer could have included the pedals along with the rest of the bike and save it all.
Sadly, it is not that way.
It is important to note that this can be a huge disappointment and annoyance for some users. But it may also provide outstanding benefits for others – especially those who like to build their bikes to the max.
Overall, though, more people will feel disappointed than they'll feel glad about this.
Bottom Line
So, what do we have to say about the Salsa Timberjack in short? Well, it is a fantastic bike for sure. If you're a beginner or someone who wants to enjoy trail-biking on a soft level, then this bike will work well enough for you.
The comfort you'll achieve while going downhill is impressive, and while it doesn't offer the best uphill experience – it still manages to be decent.
There are also many different types of adjustments you can get the most from – and it provides decent handling and comfort even in the harshest of environments.
Another thing we learned in this Salsa Timberjack review was the overall sturdiness it offers in a pretty light design.
So, it will stand tons of use, resist hard bumps and impacts, and still manage to deliver easy control under challenging paths.
Overall, it may feel like too much on the front, which could damage stability and/or handling from time to time. But sure enough – that will only be the case if you don't know how to get the most out of it.