When looking for a new mountain bike, you'll find out that most of the new models are becoming less and less travel-oriented. That means they have a shorter fork, making them slightly more "sensitive" to the road.
But this comes with an advantage – bikes are becoming easier to pedal and way easier to control, which adds up tons of versatility when riding. And sure enough, Tallboy is a perfect example of that.
On this Santa Cruz Tallboy review, we wanted to mention all the significant advantages that a mountain bike with low travel could offer.
We're also going over a few of its downsides, though. So, you can be well-prepared before making a final choice on such a quality-oriented bike.
There are many different things to consider, and choosing without being familiar with most of them will not be wise. So, we invite you to take a look down further into this article to find out more!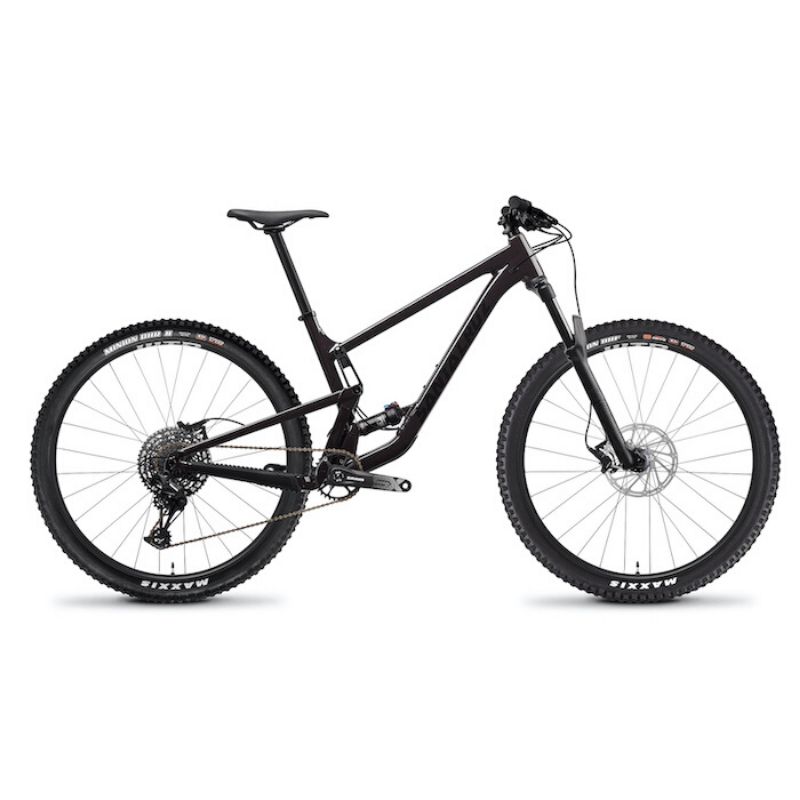 Considering the magnificent set of mountain bikes in the market with low travel, the Tallboy comes like no surprise.
Offering 120mm of total travel makes it one of the less travel-oriented models for full MTB models. But still, it is a step up from previous Tallboy models. This makes it a slightly more resilient bicycle on the road.
Adding up the large wheels and an excellent frame in either aluminum or two different levels of carbon – you can expect this bike to be magnificently responsive.
There's also a superb set of components to enjoy to the max, including the WTB Silverado saddle for maximum comfort, the SRAM drivetrain for smoothness, and the Maxxis Minion tires that achieve proper grip on any surface.
Even the combination of the stem with the handlebar, along with the unique geometry, will make it easy to move around with ease. You won't have any problem tackling the most demanding curves or just maneuvering mid-air if needed.
Overall, this is a bike for the adventurous trail rider who loves a rough ride. This bicycle is no joke – it tries its best to be as effective as possible – and it does.
So, are you expecting maximum trail performance without leaving anything behind? Then the Santa Cruz Tallboy is an exceptional choice for sure.
Want to learn more about it? We have a lot more below!
What We Liked
Super-low suspension smooths the terrain but also delivers a next-level feel
Handling the bike will be a piece of cake with its exceptional build & components
Achieves maximum trail performance with its unique low geometry
Unique set of sub-models, so you can pick the one that feels & looks better for your needs
Feels amazingly comfortable on any path, thanks to its superb saddle, seatpost, and bar
What We Didn't Like
Lower-than-normal suspension travel reduces climbing capacity a little
Extra-wide tires and trail-riding design makes it uncomfortable on the road
Santa Cruz Tallboy Full Specs
| | |
| --- | --- |
| Brand | Santa Cruz |
| Colors | Stormbringer Purple and Black / Rocksteady Yellow and Yellow |
| Sizes | 50" / 52" / 54" / 56" / 58" / 60" / 62" |
| Weight | 27.5 lbs to 32.4 lbs / 12.5 kg to 14.7 kg |
| Frame | Aluminum / Carbon C/ Carbon CC |
| Fork | RockShox Recon RL 130 / Fox Rhythm 34 / FOX 34 Float Performance / RockShox Pike Select+ / RockShox Pike Ultimate |
| Pedals | Not Described |
| Seatpost: | Race Face Aeffect / RockShox Reverb Stealth |
| Saddle | WTB Silverado Race Saddle / WTB Silverado Pro / WTB Silverado Team Saddle |
| Stem | Race Face Ride / Race Face Aeffect / i9 A35 |
| Shifter | SRAM SX Eagle / SRAM NX Eagle / SRAM GX Eagle / SRAM X01 Eagle / SRAM XX1 Eagle AXS |
| Crankset | SRAM SX Eagle 148 DUB / SRAM Stylo 7k 148 DUB / SRAM X1 Eagle Carbon 148 DUB / E13 TRSr / SRAM XX1 Eagle AXS 148 DUB |
| Cassette | SRAM PG1230 / SRAM XG1275 Eagle / SRAM XG1295 Eagle / Shimano XTR / SRAM XG1299 Eagle Rainbow |
| Chain | SRAM NX Eagle / SRAM GX Eagle / SRAM X01 Eagle / Shimano XTR / SRAM XX1 Eagle |
| Derailleurs | SRAM SX Eagle / SRAM NX Eagle / SRAM GX Eagle / SRAM X01 Eagle / Shimano XTR M9100 SGS / SRAM XX1 Eagle AXS |
| Hubset | SRAM MTH 716 / SRAM MTH 746 / DT 370 / DT 350 / i9 Hydra |
| Rims | WTB ST i25 TCS / Race Face AR Offset / Race Face ARC Offset / Santa Cruz Reserve |
| Tires | Maxxis Minion |
| Brakeset | SRAM Guide T / SRAM Guide R / SRAM G2 RSC / Shimano XTR M9120 / SRAM G2 Ultimate |
| Handlebar | Race Face Ride / Santa Cruz Bicycles AM Carbon |
Santa Cruz Tallboy Advantages
There's nothing better to know about a bicycle before deciding whether it's a good choice or not than its benefits. Here are some that will teach you more about the Tallboy:
Unbeatable Suspension
What sets every MTB bike from Santa Cruz apart from the competition is the VPP (Virtual Pivot Point) suspension system. Here, you can pair it up with the FOX Float Performance shock (in any of its variants), so you can get magnificent results.
This means that you can go practically on any trail and never get anything less than exceptional handling or responsiveness.
The bike allows the chance to take the deepest curves with ease, to go uphill with extra comfort, and take even the steepest of downhill tracks softly.
Thanks to the VPP system along with an excellent quality of shock & fork – you can enjoy one of the most effective systems out there. Along with the low travel, it ensures that you always feel like there's not a better bike to tackle harsh paths.
If you like to take your bike into tough places to get the most out of it, then you'll enjoy the high level of suspension from the Santa Cruz Tallboy.
Top-notch Handling
While the suspension helps a lot to soften up the road, it is the geometry & some components that allow magnificent handling.
The frame of the bike is shaped towards delivering a low design. That means you can enjoy maximum torque from pedaling while enjoying the perfect grip to go into the toughest of trails with excellent stability.
Whether you're going downhill super-fast or uphill in tricky terrain, you'll find an extra-low design that elevates the front but lowers down the space between tire & handlebar. When handling, this will change your overall experience for the better; especially in the trickiest of roads.
Let's not forget that you get the Maxxis Minion tires for extra traction. Even in the muddiest of dirt or the flattest of pavement, these wire & grip-oriented tires ensure you can climb over anything, stop when needed, and still grab the floor with enough strength to never slip.
When it comes to controlling your bike even when the environment is against you, there aren't many models as effective as the Santa Cruz Tallboy to offer an excellent experience.
Huge Versatility
If there's something that truly separates this bike from the rest, it is the fantastic set of frame build & components you can get for the money.
Not only you can pick an aluminum model for more affordability that still performs amazingly well, but you can also go for the most expensive models for maximum results.
The difference goes mainly on the drivetrain, brakes, and frame material. As for the drivetrain, you get magnificent SRAM models; each one better than the other, so you can improve performance as you go up in price. Similarly, with the brakes, the most you spend, the higher the quality you get.
And sure enough, the frame is another thing to consider. Going for Aluminum, Carbon C, or the most expensive Carbon CC will make a massive difference in results.
But the same happens when picking a different drivetrain or brake. And with many other components also changing, you're set to choose the one that you prefer depending on your needs & desires.
That's highly versatile of bikes to go for – and something you must not overlook when picking.
Extra Comfy Design
Lastly, we couldn't leave behind the quality of the design, making sure you're getting exceptional comfort every time.
Here, there are a few features that stand out. The first one would be the handlebar.
Whether you get the affordable or the most expensive models, you're getting top-notch components. If you go for the Aluminum or Carbon C models, you get the Race Face Ride bar – ideal for its reliability.
Yet, when you add the Santa Cruz Bicycles AM Carbon in Carbon CC models, it feels extra-light for exceptional control.
Then, you'll find a high-quality seatpost. It works amazingly well with the unique frame geometry to provide the extra handling capacity.
Here, you can get either the Race Face Aeffect in its affordable option or the RockShox Reverb Stealth in the pricier ones.
Both are fantastic seatposts in their own way, combining amazingly well with the frame to provide not only the extra suspension but also tons of space to maneuver when needed.
And to make it even more evident that this bike is a mountain model which can still feel pretty comfy, you can add the saddle.
Here, you'll be enjoying the WTB Silverado model in any of its variants: either the Race model, the Pro model, or the Team Saddle model.
Sure enough, the Team Saddle is the comfiest and also the most expensive of the three, but you're not getting anything short of amazing with the other WTB Silverado seats either.
Santa Cruz Tallboy Disadvantages
Learning a thing or two about its advantages could help you a lot when picking, but nothing compares to knowing about its drawbacks. Here are some of them:
Bad Road Bike
We can't say anything more offensive than that – the Santa Cruz Tallboy is the perfect mountain bike for most people. But take it to flat roads, and it won't be that much of an excellent bike.
Let's be clear, this bicycle will take you anywhere from the mountains or hills to the most challenging tracks, cross-road adventures, and more.
But once you make it work as a commuting bike or try to travel for several hours sitting on it – then you'll know it is not that much of a hybrid bike.
This is not necessarily an awful thing. In fact, anyone who rides a mountain bike this perfect would know exactly what we're talking about. Yet, that doesn't reduce the fact that this bike will make you struggle with comfort & performance when riding on more conventional paths.
Our recommendation will be to get this bike only, and only if you're using it for the off-road trail without exceptions. Not only you would be spending a lot of money on a bike you're not getting the most from, but also it will make you feel uncomfortable and stressed.
So, pass over this bike unless you're truly serious about taking to the road. In that case, you won't regret it.
Low Design Affects Climbing
Well, you may think this comes as a surprise after reading the previous advantages & knowing that this is a next-level mountain bike.
But yes, the low design of the bike could put you in an awkward situation when going uphill.
While it won't deliver the worst performance out there, you may start feeling like it doesn't climb as taller bikes do. And it wouldn't be a surprise.
The design is specifically designed to improve the downhill experience and smooth out the terrain without leaving your arms trembling.
But when it comes to climbing, it fails. The low design & mid-travel capacity could disappoint you a little, especially if you were expecting maximum results.
Overall, though, it performs well enough. But if you're a demanding user, you'll think how much better it would be if it weren't that short.
Bottom Line
Feeling the floor beneath the wheels – that's what the Santa Cruz Tallboy offers. The combination of an excellent low frame with short suspension travel, it will make you the happiest trail rider out there.
As long as you aren't expecting much height on the front or ride on the road for days, you'll feel like this bicycle has everything you may need.
This Santa Cruz Tallboy review should help you understand why such an excellent design and set of components cost so much. But it also makes it clear why it is such a great option.
If you're a tough-trail biker who loves getting challenged, this bike is the one for you. It will smooth out the terrain like no other, while still offering the chance to control even in the hardest paths.
You won't regret having such an excellent bicycle ready for any trail ride. It will undoubtedly surpass your expectations.