We wanted to veer from road & mountain bikes a little and take a look at one of the most practical exercise bikes in the market – the Schwinn 170 Upright.
For those who want to make their dreams of losing several pounds come true or maintain the figure for long enough, few machines help as well as an exercise bike. And we found this bike to be perfect at that.
Making a Schwinn 170 review was not easy, though. With so many different things to consider, especially being so different from the regular bikes we love so much – we had to spend more time & effort researching than average.
But for being so much of a popular & effective exercise bike – we could still find comprehensive information about it.
Want to know what we're talking about? Then head down and read!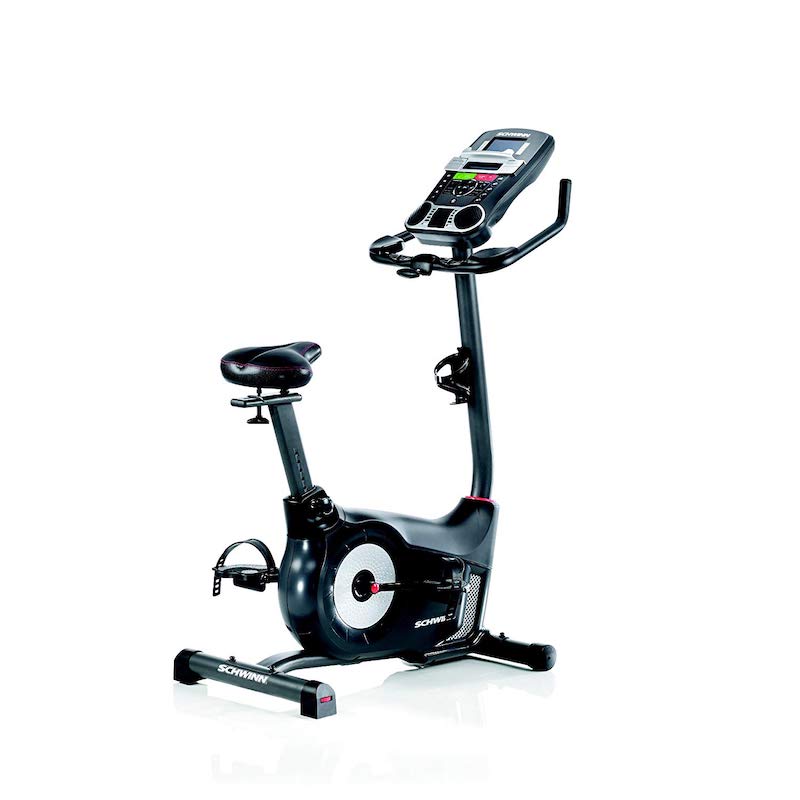 There are innumerable advantages of an exercise bike, especially when it comes to health benefits. You can use one of these for a few weeks and start enjoying a better figure.
But there's much more to it than that. You also get a comfortable machine that you can use for hours non-stop. And with its unique set of technological features, it makes the whole process way more enjoyable than usual.
Sure enough, it also comes with a tracking system – ideal to know how you've been improving over time. And if you want to share your feats, then you also get an app for that.
There's simply no limit to what it can offer as an exercise bike, especially with 22 workout programs, 25 levels of resistance, and 2 LCD screens for maximum convenience.
In short, you get enough to enjoy a few minutes of exercise every day without boring your life away. That's how capable this exercise bike is, and that's how much you can enjoy it.
What We Liked
The personalized system lets you choose different levels of exercise according to your needs
Comes with several practical features like MP3 player, bottle holder, and 3-speed fan
High-quality LCD screens allow you to track all your data live so that you can improve accordingly
Delivers incredible comfort level with contoured saddle & wide pedals
What We Didn't
Is not as durable as we expected
Schwinn 170 Advantages
As it is an exercise bike, there are surely more advantages than disadvantages to consider about this bike. Here are some of them:
Full Customization
A thing you'll find is that you can use this bike however you prefer. It is an utterly well-made model that lets you make it work exactly as you need.
For example, it offers a contoured seat with forearm rests in the ergonomic handlebars. If you don't like pedaling upright, then you can incline your body a little and feel comfier as per your need.
You also get transport wheels to take the bike wherever you prefer, or simply store when needed.
The machine also comes with a water bottle holder; oversized, so you can make it work with large bottles for extra hydration.
And to make it even better, you get a 3-speed fan – ideal for keeping your cool while riding. If you're in a pretty tropical environment, this will come like an excellent function to enjoy.
Besides, you get a practical DualTrack LCD screen with 29 different exercise programs depending on your fitness level. You also get 25 levels of aided assistance, 10 resistance levels, and 12 profile as well as 9 heart-rate programs for any of your needs.
When it comes to customization, few models will help you out like this one.
Practical Tracking System
When you want to achieve maximum results in the shortest or longest amount of time – only a few things will help you more than a tracking system.
This is what sets the Schwinn 170 apart from the competition. It offers the chance to track your time, distance, and calories. It also lets you connect via USB to SchwinnConnect or MyFitnessPal to download your data.
And if you want to place some music around to enjoy excellent riding with your favorite songs, then connect your system to the MP3 player. This way, you'll be saving your riding data while enjoying your favorite music.
High Comfort
The last factor that will make you fall in love with this bike will be how comfortable it truly is.
Adding a padded contoured seat, you can enjoy one of the comfiest experiences out there. Even if you have to sit for hours and pedal non-stop, the seat allows you to do that with ease and little discomfort.
The pedals are another excellent feature to consider. Being oversized & boasting securing straps, they allow you to feel utterly comfortable, and prevent you from missing the pedal when going full-throttle.
Apart from all that, you can be sure that the machine will make you feel secure at all times. With high-quality construction and a 300-pound capacity, it can handle tons of weight and all kinds of people without issues.
Overall, it makes it clear that comfort is not a problem with this exercise bike – and that's something to appreciate.
Schwinn 170 Disadvantages
Finding drawbacks on such a quality-oriented exercise bike was difficult. But we found something that many users complained about – it is not as durable as it seems. Here's more about this:
Not the Most Durable
We know how important it is to get a bike that can last a few years. Sadly, the Schwinn 170 is not the bike you should expect to offer you that kind of experience.
It won't necessarily stop working in your first year or even the second of use, but it will make it harder to enjoy if you are expecting to last a lifetime.
Still, you won't get anything more to complain than that. So that's something the bike does well – you get the most out of it until it doesn't work anymore.
Bottom Line
So, are you ready to tackle some biking at home and enjoy maximum physical results? That's what you get with the Schwinn 170.
With so many personalization features, magnificent levels of exercise, and the capacity to recollect your data and improve your performance accordingly, this stationary bike makes it possible to lose pounds in a short time.
But be aware that it is not the most durable option out there. So, try to get the most out of it while it lasts, and you won't be disappointed.
Make sure to understand everything it offers by reading our Schwinn 170 review, and you won't have anything left to know. Choose accordingly, you won't regret it.