Most bikes in the entry-level range are often ugly, unreliable, and sometimes unresponsive on the road. But with the Allez, you won't have any of that.
An affordable bike can also be ideal for most of your needs. And, in this Specialized Allez review, we want to make that clear.
Especially if you're someone who just needs a bike for a short trip around the city – this one will feel like a fantastic choice.
Commuting and stepping on the road from time to time without emptying your pocket – that's something only the Specialized Allez series does. But there's a lot more to it than that.
Want to learn all the fantastic factors that make this series such a great choice? Then come further and find out!
Why Specialized Allez?
One of the things that set the Allez apart from the competition is the prestige it has. While it seems like a pretty modern bike, its name actually comes back from almost 40 years ago. And it was always the same budget bike for those who wanted quality at a small cost.
But this price didn't come with unreliable components, unsatisfactory performance, or awful design. Instead, you will receive almost the same quality from a mid-range and even high-end model but with a way better price tag.
That's why it is such a great choice – because it offers an astounding value despite its low cost.
But for the Allez series from 2019 and on – you get way more than that to the point of looking like a way more expensive bike than it is. And that's something, which can't be dismissed.
5 Picks of Our Specialized Allez Review
This bike does not come in just one model, though. You get 5 different sub-models to choose from – and each offers a slightly different bike to consider. Here are all the different models with their own reviews –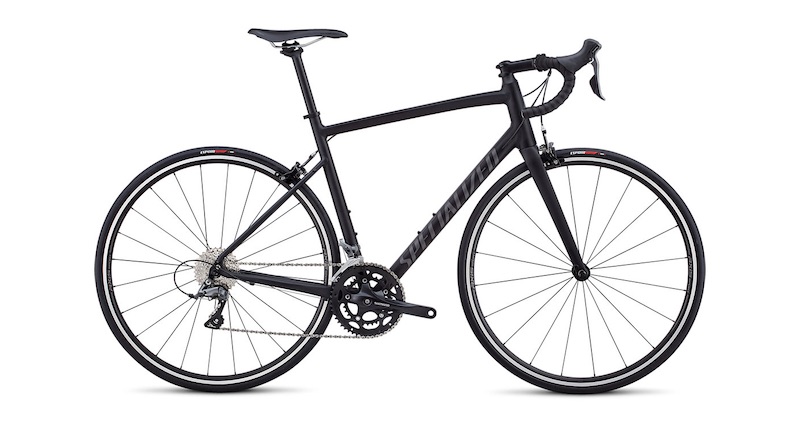 The first one is the standard Allez – a perfect commuting bicycle that you can take to the road if needed.
Once you take a look at it, you'll realize it is a pretty exciting bike with a Premium E5 Aluminum frame, along with a FACT Carbon fork. Together, they offer the ideal lightness so you can ride around with ease, but also the extra suspension so you won't have to worry in difficult terrain.
Along with the fantastic frame and fork system, you get top-notch shifting. This comes directly from a Shimano 2000 Claris with 8 speeds – one of the most reliable and responsive shifters in the market that don't cost much.
This pairs up well with the Tektro brakes. The responsiveness and overall stopping power you'll get will be enough to enjoy speedy trips, long rides, or cautious trailing if needed.
You can add up the superb Axis Sport alloy wheels for the extra touch of smoothness. And with the Espoir Sport tires, you can expect no less than exceptional traction. Getting maximum speed from this bike without worrying about its components won't be much of a problem.
And all of that comes in a pretty comfortable model still – boasting the Body Geometry Toupé Sport saddle over an alloy 2-bolt seatpost. You'll have the chance to sit comfortably and adjust depending on your height.
Overall, you'll get a pretty responsive and well-made bike for a hugely affordable cost. It takes your performance to another level without breaking your bank account.
Pros
Excellent frame and fork combination for handling
Top-notch shifting system for ease of use and speed
Ultra-responsive brakeset for fast stopping
Super smooth riding with well-made wheels and tires
Practical and comfortable seatpost with saddle design
Cons
Brakeset could be a lot better
Wheels reduce speed a little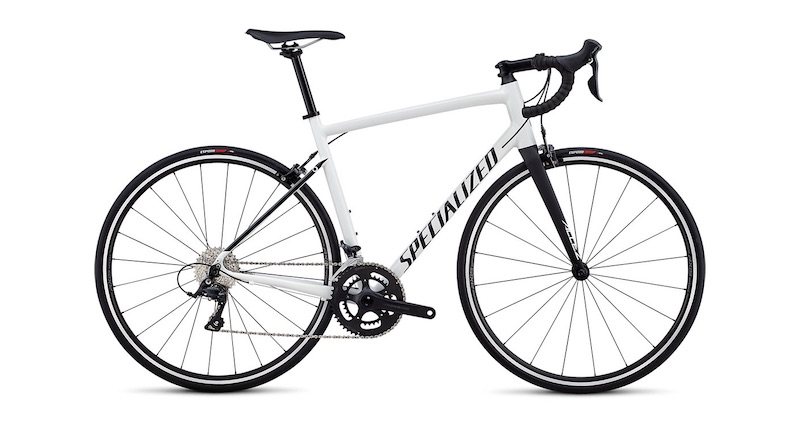 You can carry light loads, ride around the city with ease, and maybe even take several hour-long trips in a day without breaking a sweat. And this bike won't let you down.
It all comes down to the refined E5 Premium Aluminum frame, one of the lightest and reliable models that also comes at a fantastic cost. At only 450g or 1-pound of weight, it offers the chance to bring the bike around with so much ease that it will feel like it isn't really a bike.
And this doesn't harm durability in the slightest. Especially when you add the fantastic FACT carbon fork, you can expect this bike to stand all kinds of uses without problems.
Still, it is a comfortable bike. Boasting a Specialized Shallow Drop handlebar, a Body Geometry Toupé Sport saddle, and a 2-bolt clamp alloy seatpost – you can expect it to feel comfy at all times.
But the real advantage comes from the Shimano Sora shifting system. It offers the extra responsiveness and reliability that the standard model does not. Along with the Praxis Alba M30 crankset and KMC X9 chain – you can enjoy all its 9-speeds in a breeze, no matter where you're riding.
Along with all that, you get the Axis 1.0 caliper brakeset. It is the ideal choice for the quick reaction you need on a slightly better version than the standard. Pair this up with the Axis Sport wheels and the Espoir Sport tires – and you get a great speed, smoothness, and traction.
Pros
The super responsive shifting mechanism for fast changes
Reliable and responsive braking system
Decently comfortable with well-made handlebar
High-quality wheelset for smoothness and traction
Pretty enticing appearance despite its low cost

Cons
The seat could be a lot more comfortable
Not the most durable components out there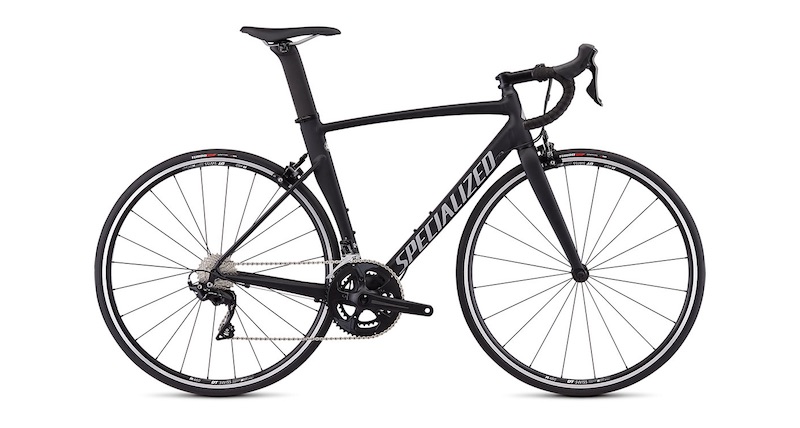 A road bike usually delivers little to no comfort – unless we're talking about the Sprint Comp.
This is a bike that can take you anywhere from the steepest climbs to the speediest streets and always deliver ultimate comfort. And it all comes down to a high-quality E5 Premium Aluminum frame with D'Auluisio Smartweld Technology – ideal for stiffness and better handling.
Along with the fantastic S-Works FACT carbon fiber fork, you'll receive a bicycle that resists tough terrain without issues. Add up the thick Specialized Venge Aero seatpost with the Body Geometry Toupé Sport saddle, and you'll get ultimate comfort at all times.
When you mesh that kind of coziness with DT R460 alloy wheels and the Turbo Pro tires – you receive no less than fantastic results. You can go practically anywhere without losing any of its primary qualities, making it ideal for most commuting users as well as those who step on the road.
We can't forget about the Shimano 105 R7000 brakes, either. You will have the ideal crispness and responsiveness for more reliable stopping power. Even in the hardest of terrains, this bike will stop fast and effectively.
The shifting system comes with the same Shimano 105 R7000 groupset, making the speed-changing system as a whole even more reliable. With 11 speeds to enjoy, you won't have any problem getting the right one no matter where you're going.
In short, the Sprint Comp is one of the most expensive yet most practical bikes from the Allez series you can get. And it is totally worth it.
Pros
Excellent frame and fork system for stiffness
Super comfy saddle with thick seatpost
Smooth wheelset with high-quality tires
Highly responsive brakeset for safety
Fast speed changes with reliable shifters system
Cons
Heftier than other Allez models
Not the quickest bicycle out there
Everyone loves Allez for its affordability – and sure enough, the Sprint Comp Disc still manages to offer precisely that.
An affordable bike can also be super versatile, and this one has lots of versatility to offer. You can take it anywhere from the steepest climbs to the flattest pavement and it will perform well enough. And it all starts with the DT R470 disc alloy wheels, along with Turbo Pro tires – perfect for road smoothness.
Yet, the wheels wouldn't move as well without the Shimano 105 shifting system. Along with hydraulic disc brakes with the same name, you can expect high reliability from the entire bicycle. Whether you want super-fast speed changes or responsive stopping power – then this system will not let you down.
Another extraordinary thing to consider is the entire E5 Premium Aluminum Disc frame. Along with the D'Aluisio Smartweld Technology, you can take its extra weight and reliability to feel stiffer on the road. This will help you achieve better stability, especially with the efficient Tarmak SL6 fork.
Going from the chainstays to the rear triangle – everything feels like it has a perfect shape. And when you add the Shallow Drop handlebar – you can expect no less than ultimate comfort to ride around with ease.
There's no mistake, the Allez Sprint Comp Disc offers 11 speeds of total coziness – making it perfect for the road-riding biker.
Pros
Smooth wheelset with high-quality tires for traction
Well-made aluminum frame for lightness and durability
Perfect bike shape for extra comfort and resilience
Top-notch shifting and braking for an ultra-responsive bike
The ideal fork allows extra stability and stiffness
Cons
Not the most enticing color options
The small saddle may feel somewhat uncomfortable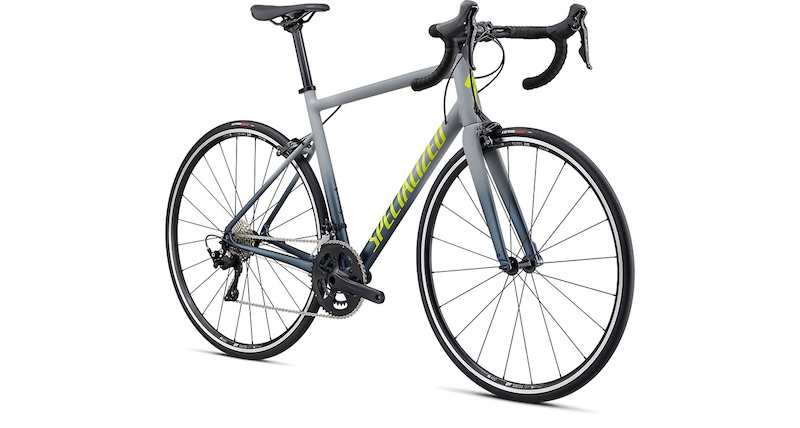 This is the mid-range of the Allez series – and it is as smooth, reliable, and comfortable as the other ones.
At first sight, you'll notice the excellent E5 alloy frame, high-quality construction that weighs only 450g or 1-pound. That's light enough to be carried around with so much ease that you won't believe it is actually a bike.
Yet, it is not only its weight but also its sturdiness, which is impressive. Along with a Fact carbon fork, you will receive an excellent build that dampens shocks and provides superb maneuverability at high speeds.
Another exciting part of the bike is the rack and fender mounts. It offers the extra convenience to get you on the road totally equipped no matter the purpose. And if it is for commuting, you won't have any problem bringing some extra bags or gear if needed.
But there's still a lot more to consider – especially for its components. This bicycle boasts the Shimano 105 shifting – an old yet super reliable system to get your riding to another level. With the Axis 1.0 caliper brakes, you can expect superb responsiveness at all times.
Let's not forget about the DT R460 alloy wheels and the Espoir Sport tires, adding up to the overall speed and smoothness of the bike even in the hardest of terrains.
And for comfort, you get a Body Geometry Saddle and a Shallow Drop handlebar. That way, you can enjoy a smooth, comfortable, and stable experience no matter where you go.
Pros
Outstanding frame for durability and lightness
The high-quality fork allows better handling
Practical design with fender and rack mounts
Super responsive shifting for quick speed changes
Smooth and speedy wheels and tires
Cons
The brakes are not as sensitive as expected
Could be a lot faster
Frequently Asked Questions
While reading our reviews will give you an excellent idea of what they offer – you may still hold some doubts. With the following questions, you may resolve them:
Can I change the drop bars on the Specialized Allez?
Yes, but we don't recommend it.
Is it possible to install wider tires on the Allez?
No. Unless you change the wheels and fork shape to install new wheels and then wider tires – then you can't. We recommend getting a tougher bike with wider tires in that case.
Does the Specialized Allez bicycle need any maintenance?
We recommend keeping the chain, crankset, and brakeset lubed as instructed. Otherwise, you only need to keep it clean and dry to prevent corrosion and similar issues.
Can I pick different bike sizes depending on my needs?
Yes, all Specialized bikes, as well as many other brands, offer the chance to pick different sizes according to requirements.
How many years of use can I get from a Specialized Allez?
These bikes come with aluminum frames and well-made components, so they can last several years up to a decade or more. You may need to replace tires, wheels, and brakes after some time, though.
Conclusion
So, what do you think about the Allez bicycle from Specialized? For us, it is one of the best you can get for the money.
The affordability, along with such excellent quality, puts it on another level. And sure enough, this Specialized Allez review will tell you everything about each one of its sub-models.
Don't hesitate and use all our advice and recommendations in this article to make an informed decision. With so many models to pick from the Allez series, there's nothing better you could do.
Without much further ado, it's time to make your pick. Remember, this is an excellent road bike in its entirety that you won't regret having.