Want to take your bike anywhere you go and still enjoy it to the max? Few models will offer that chance – and the Specialized Diverge Comp is one of them.
You can take it to the street and around the city, to dirt roads, steep hills, and even to the mountain. There's almost no limit to what you can do with this bike.
In this Specialized Diverge Comp review, we're explaining all the different things you can do with it – and how to enjoy it all.
But sure enough, we're also going through a few of its drawbacks. And we're going to make it quick yet complete, so you can learn exactly what you need.
Whether you want a new bike or want to learn more about the different options available out there – you'll love reading this review. Read up for more!
Specialized Diverge Comp Overview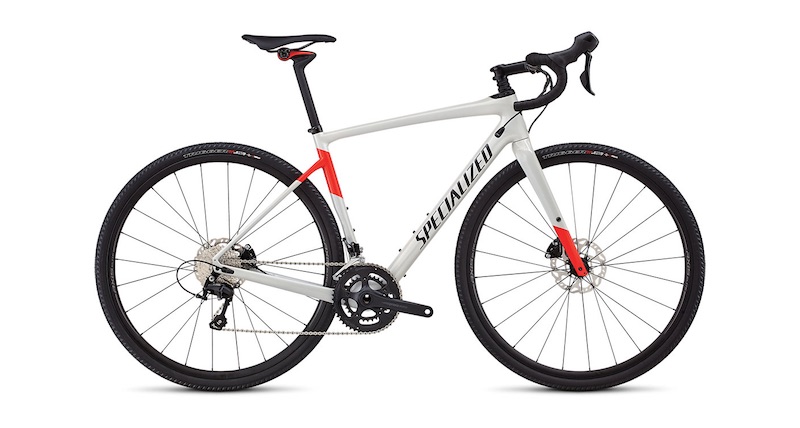 From the saddle to the wheels – the Specialized Diverge Comp is a bike for the explorer and those who like to take chances.
It doesn't matter whether you're using it every day to go to work, go every Sunday morning to the hill, or eventually take it to the off-road track every now and then. Whatever you do with it – you won't have a thing to complain about. It sounds like a little too much, but sure enough, it's all true.
The bike takes even the smallest of biking experiences to another level, so you won't have to worry about where you take it.
All of this is possible thanks to a sturdy yet light carbon build, along with high-quality components that make it super-resilient, easy to handle, and decently reliable.
You will find the front Future Shock suspension a top-notch addition for softening up the trail. Then you'll feel how the Shimano RS505 disc brakes relieve your stops. And with the stiff yet light frame – you can go around in every path with maximum control.
That's why you can take it almost anywhere and still enjoy every single second on it. And that's without even mentioning its wheels and tires, as well as the many different adjustments and extra features.
In short, we can say this is a bike that goes over the limit to provide great comfort and resilience. You won't get the speediest or most robust bike out there – but it can still do it all at a decent level.
There's a lot more to disclose about this bike, though. So, we invite you to keep reading so you can find everything from its best features to its worst ones.
What We Liked
Rides smoothly on streets and harsh paths without breaking a sweat
Ultra-light carbon frame allows exceptional handling and resilience even in the toughest paths
Quiets down even the harshest of bumps and impacts on any surface
Amazingly responsive drivetrain and brakes for a frustration-free experience
A wide array of extra features for a convenient experience in short and long rides
What We Didn't Like
Slightly awkward and uncomfortable external cable design
Somewhat more expensive than the regular versatile bike
The saddle can be a little uncomfortable at times
Salsa Timberjack NX Eagle Full Specs
| | |
| --- | --- |
| Brand | Specialized |
| Colors | Gloss Dirty White with Rocket Red and Tarmac Black / Satin Blue Tint with Charcoal |
| Sizes | 48"/ 52"/ 54"/ 56"/ 58" / 61" / 64" |
| Weight | 21 lbs / 9.5 kg |
| Frame | Specialized FACT 9r Carbon with Open Road Geometry and Future Shock Suspension |
| Fork | Specialized FACT carbon flat mount disc at 12x100mm thru-axle |
| Pedals | Nylon with loose balls w/ reflectors |
| Seatpost | Specialized CG-R – FACT carbon single-bolt at 27.2mm |
| Saddle | Body Geometry Phenom Comp with Adaptive Edge design and Hollow Cr-Mo Rails |
| Stem | Specialized with 3D forged alloy and 7-degree rise |
| Shifter | Shimano RS505 disc |
| Crankset | Praxis Alba 2D – BB386 |
| Derailleurs | Shimano 105 Ez braze-on in Front – Shimano 105 11-speed in Back |
| Hubset | Not Described |
| Rims | Axis Elite Disc |
| Tires | Specialized Trigger Pro with 2Bliss Ready |
| Brakeset | Shimano RS505 |
| Handlebar | Specialized Comp Hover Bar with 6061 Alloy at 70x125mm and Di2 hole |
| Cassette | Shimano 105 – 11-speed – 11-32t |
Specialized Diverge Comp Advantages
Now that you're somewhat familiar with everything it offers, it is time to take it a step further and go deep.
Here are some of the significant benefits of getting this bike, all explained comprehensively so you can get even more acquainted with its features –
Outstanding Frame
The first thing we can't stop talking about is the frame. Its geometry, its shape, and its overall sturdiness – it's the ideal frame to take it either to the road or to the mountain trail if needed.
That's why it is called the Open Road Geometry. It allows exceptional results no matter the road you take while riding it.
The feeling of stability and overall control is almost unbeatable. Even in the harshest of roads, you won't ever feel the bike struggling. Instead, you'll feel how well it manages the road without any difference, whether it is downhill, uphill or flat surface.
But it is the Fact 9r frame, one of the lightest around, that stands out the most. It allows exceptional handling wherever you go. The stiffness and rigidity will help you move around with ease. And sure enough, the front and rear thru-axles make it all even more effortless.
Without the Fact 9r carbon frame and the fantastic Open Road Geometry, none of this would be possible. So, you're getting an excellent base build that allows extra results – no matter where you go.
Smooth and Easy to Handle
We went through the frame, but we haven't gone over the different components that stand out the most: its axles, its carbon fork, and its fantastic 2Bliss Ready Trigger Pro tires.
And it all gets even better in terms of handling and steering. It feels incredible when jumping around and going downhill, not reducing stability or control. Still, it manages to allow fast steering on any corner or for pirouettes.
But when it comes to its smoothness and overall handling capacity, we can't ignore the 2Bliss Ready tires. The Trigger Pro fast-rolling tires allow the bike to go even in the trickiest of roads as if it were going in the street – and go in the street as if it were gliding through clouds.
Moreover, the grip and overall sturdiness of these tires will help you achieve maximum capacity on any trip you take. You can gain maximum traction in corners and enjoy its magnificent resilience in the trickiest of downhill paths.
You won't have to worry about riding smoothly or handling with ease – this bike makes it all possible.
Fewer Bumps = Enjoyment
Following up on the wide tires this bike has, we also had to add the Future Shock suspension system.
Together, they allow the bike to resist bumps, withstand all kinds of impacts, and still go up and down in steep terrain without providing any discomfort.
The combination of the wide tires along with ultra-resistant suspension system also helps with handling. You won't have to worry about losing control of the bike and falling into harsh surfaces or obstacles.
Instead, the stiff suspension allows everything to feel like a minimum shock. From rocks to hard falls and more – little effort will match with tons of quality so you can handle everything with ease.
And sure enough, we can't leave the amazing carbon frame behind. It also has a slight touch of impact absorption that makes it even better when dissipating impacts – preventing any shock to go into your arms or legs.
Overall, you'll be pretty happy when gliding around challenging paths, as well as doing a pirouette here and there. The bike is rigid enough to support it all.
Responsiveness on Any Surface
All of the previous features come down into another excellent advantage: it feels fantastic no matter where you go.
The responsiveness of the wide and high-grip tires along with the lightness of the frame plus the superb shifting system with excellent brakeset – it all allows perfect responsiveness on any surface.
You can take it to the streets and make hard stops without going further a single inch more than expected. And you can change gears while on the road and enjoy different types of performance depending on the kind of trail.
It is responsive enough to take your overall experience to another level. Pairing up its significant features, you get the perfect bike to take anywhere you go and feel almost the same at all times.
Highly Practical on the Road
To make this bike even better, you can add up the different extra features – including the three water bottle mounts, the racks, and the fenders.
You can hop on the bike, mount your gear, and trail for hours or days without missing a single piece of equipment. Whether it is for survival on the wilderness, to go and pick some groceries from the store, or even just move around with all your belongings with ease – this bike makes it all possible.
Specialized Diverge Comp Disadvantages
Despite being one of the most exciting bikes in the market nowadays, it still manages to come with a few downsides. Here are some of them –
External Cable Display
The first thing you'll notice about this bike that doesn't look great in its entirety is the external cable display.
Both the brake and shifting cables are all outside the tube, which makes it lose some of its appealing.
Especially if you're someone who likes a tidy bike that looks neat and well-made, then you may not find this one too appetizing.
Overall, though, the design still manages to look pretty decent. Even for a bike that is so expensive and still has external cables, you won't find this an awful problem to consider.
Slightly Uncomfortable Saddle
Another factor that you may not appreciate about this bike is the saddle.
Coming with an easy-to-lift seatpost, you can expect the saddle to be ultra-comfy and never hurt. But it is not that easy.
This saddle is slightly comfortable at first, but after some time, it feels like total dread to be sitting on it. The small design and awkward shape may leave marks as well, especially after several hours of biking.
It is not the most uncomfortable saddle in the market, but it is certainly not the comfiest either. Luckily, it comes with a spring suspension system that absorbs impacts. So, while it is not the coziest out there, you won't have to be utterly disgusted with its performance.
Somewhat Expensive
And finally, we couldn't finish this review without going over its cost.
Yes, the Specialized Diverge Comp boasts a wide array of fantastic features, including its top-notch build, super practical features, and unique geometry. But that doesn't mean it lacks something else – maybe it is the size, it is perhaps its comfort, or maybe it is better trail performance.
The price is not the worst, though. You will still get one of the best bikes out there – yet it could be slightly better.
If you have the money and you're not afraid of spending it on a nice bike, then it will be worth it. Otherwise, you may want to look for something else, which is more affordable.
Bottom Line
The bike is impressive – there's no doubt about it. When compared to its lower-end cousins, the Specialized Diverge Comp takes performance and reliability to a whole new level.
But that comes with a price – it feels somewhat expensive. And despite this cost, it still feels less stylized than it should. With the external cables and the awkward saddle – not everyone will fall entirely in love with it.
Luckily for you, there's enough on this Specialized Diverge Comp review to truly love it.
What we can say is that pairing up its frame along with a top-notch suspension system will make it one of the sturdiest bikes in the market. And with the superb set of wheels and tires plus the unbeatable responsiveness it offers – you won't have any problem enjoying this bike on-road or off-road.
So yes – it is a bike for anyone who wants to take the extra step out of the comfort zone at any moment. But all that comes at a slightly oversized price tag – which you should be careful about.
If you want something to take you anywhere you go without drawback, then this is the bike for you – as long as you can afford it.