Quality brands make quality bikes. And the Specialized Roubaix is a perfect example of that.
This model takes the most efficient components together to deliver fantastic all-terrain results.
That's why we had to make a Specialized Roubaix review because this bike was simply too good to be true.
However, there are several models to consider. The Roubaix offers the chance to pick the smoothest, the fastest, the roughest, or the simplest – whatever you prefer.
So, are you eager to learn more about this bike and its different options out there? Then come down further! You won't regret it.
Why Specialized Roubaix?
While it is marketed as an all-terrain bike, it actually performs at its best on the pavement. In fact, the Roubaix gets its name from the Paris-Roubaix competition – a long race that takes bikers from Paris to Roubaix in less than 24 hours.
But it is not only from the competition. Several of the winners have used a Roubaix – that's why it gets such a name.
And sure enough, that's enough to say that this bike is not just any bicycle. It is one of the best out there, and it will probably surpass your expectations, both on the road and off-road.
As a highly versatile bike that focuses on the smoothness and easy pedaling, this bike is a perfect choice for the most demanding users out there who want to get maximum performance on cobble.
7 Picks of Our Specialized Roubaix Review
Like we said before, the Specialized Roubaix is a great bike to consider. But it comes in different models – so you'll have to decide which one works better for you. Here's a short review about each one of these variations:
Roubaix Expert Review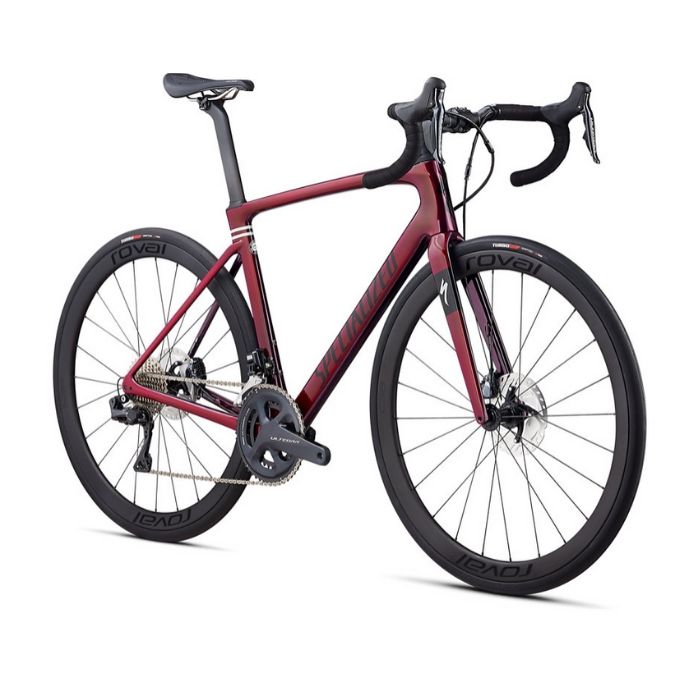 The first we're reviewing is the Roubaix Expert. This is the most expensive of all Roubaix models, and one of the most costly from Specialized.
Whether you're going downhill or uphill, through mud, rocky paths, or even on asphalt at maximum speed – you can make it work exactly as you need with a single touch of a shift with its 11-speed Shimano Ultegra Di2 system.
And if you need to stop all of a sudden, the Ultegra hydraulic disk brakes won't let you down.
This goes well with the Roval C 38 Disc wheelset, made of carbon, and light enough to achieve outstanding speeds at any moment. Along with Specialized Turbo Pro tires, you can glide in the most difficult of terrains without breaking a sweat.
Apart from that, you can expect an elegant frame to increase ergonomics and aerodynamics. It boasts a Ride-First Engineering system that makes handling a piece of cake. Along with the S-Works Pave seatpost and the Body Geometry Power saddle, it will let you ride in exceptional comfort.
Finally, it leaves no space to bumpy rides with the Future Shock 2.0 fork system. You can adjust it with a knob on the stem, so you can decide whether you want a stiff experience to feel the road or something that damps every impact. It will help you reduce fatigue and improve performance when needed.
Overall, it is a high-end model for the most demanding of bikers out there.
Pros
Top-notch drivetrain for responsiveness and results
Highly reliable brakes for excellent stopping power
Easy-to-handle and comfortable frame
Well-made wheels and tires for extra speed and traction
Superb suspension fork for comfort and convenient
Cons
Way more expensive than its variations
Not the most enticing color options
Roubaix Comp Review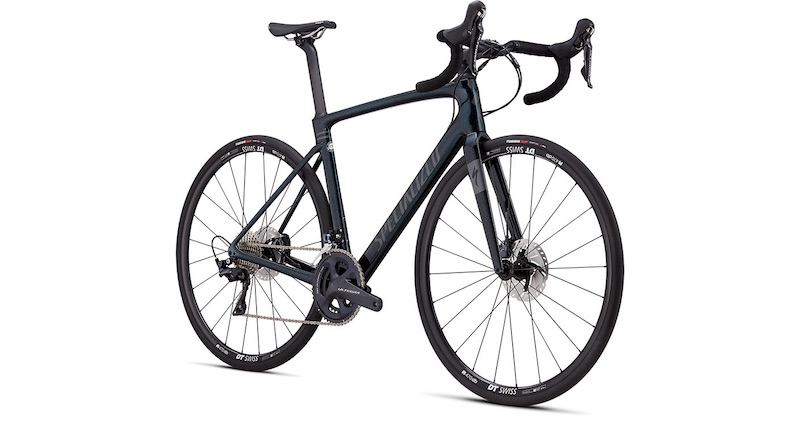 Going down in price, we now meet the Roubaix Comp. This is a mid-range version of this model – but with magnificent characteristics nonetheless.
You could easily say this is the perfect combination of quality and cost. It provides a fantastic value, starting from its high-end Shimano Ultegra drivetrain with 11 speeds, and the super-responsive brakeset with the same name.
This gets better when you add the DT R470 Disc wheels. They provide traction and speed so you can get the most out of the drivetrain as well as the brakes. You won't have any problem achieving smooth riding on the street and reliable stops on the trail.
All of that wouldn't be possible without the FACT 10r carbon frame. Along with the Rider-First Engineering system, you can expect it to handle well on different situations – from sharp corners to bumpy paths and even flat streets; it does not have any problem achieving ultimate aerodynamics.
This works exceptionally well with the Future Shock 1.5 fork system. It helps to damp away any impact as well as provide a way more speedy performance, so no obstacle can slow you down. Despite its effectiveness, it still looks fantastic on the bike, thanks to the Smooth Boot system.
To add up even better components to an already fantastic bike, we can mention the S-Works Pave seatpost, working alongside the Power Comp saddle. Together, they ensure you can travel around in a highly comfortable and reliable bike – even in the trickiest of paths.
In short, this is a bike for those who want something way better than the standard.
Pros
High-quality drivetrain for smooth speed changes
Exceptional fork system for bump-free suspension
Reliable braking provides extra confidence when riding
Ultra-resilient and lightweight carbon frame
Super-fast performance with the brilliant wheelset
Cons
The wheelset is not made of carbon
Its saddle design could be a little better
Roubaix Sport Review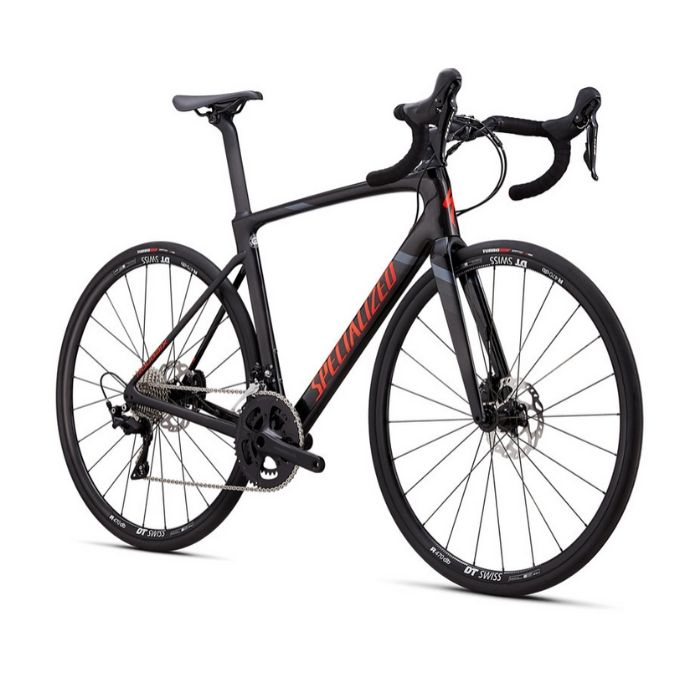 After meeting the Expert and the Comp – it is time to go over the Roubaix Sport. This is the second most affordable sub-model – ideal for those who want the same quality that the most expensive ones offer, but without such a hefty price tag.
It boasts the same Fact 10r carbon frame that many Roubaix models have. You also get the Rider-First Engineering system, ideal for extra aerodynamics and proper stiffness on any of its sizes.
But that's not what sets this one apart from the other Roubaix models. What truly changes is the Shimano 105 group-set. You get terrific shifting technology for speedy changes, as well as a robust set of brakes so you can enjoy everything the hydraulic discs have to offer.
To make the group-set work wonders, you get the DT R470 Disc wheels. They allow your drivetrain to achieve speeds faster than usual, and the brake set to achieve amazing responsiveness. Sure enough, this is also thanks to the Specialized Turbo Pro tires – delivering ideal traction on any surface.
There's still a lot more to consider, especially when it comes to its fantastic Future Shock 1.5 suspension fork. You can enjoy a less exhausting ride on difficult terrain, as well as smooth handling in wet surfaces and mud.
Lastly, you can enjoy the S-Works Pave seatpost that comes in every model on the Roubaix series. Along with the Power Sport saddle, you can enjoy superior comfort on every ride.
Pair this up with the four different enticing color options, and you get a fantastic model in its entirety.
Pros
Light and aerodynamic carbon frame for easy use
Super responsive shifting and braking for performance
Smooth disc wheelset for extra speed
Fantastic suspension damps every impact
Highly comfortable seatpost and saddle
Cons
The drive train is not as smooth as expected
Brakes could be more responsive
Roubaix Review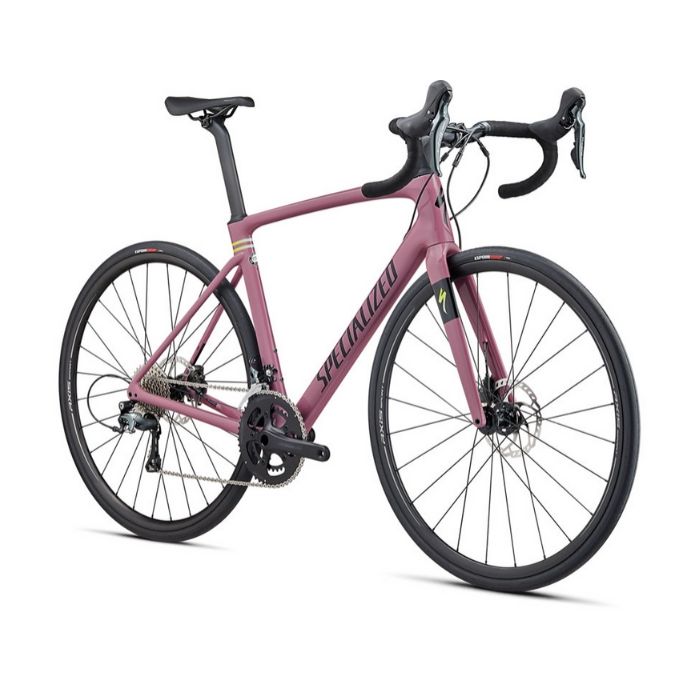 The simplest model in the list – yet one of the most efficient and well-made, the Roubaix will put your money in the best use.
This is a fantastic option in its entirety, starting from the Shimano Tiagra drivetrain and brakeset. It offers 10 speeds so you can move around depending on your needs, as well as one of the most responsive hydraulic brakes. And they fit the price amazingly well – so you get outstanding value.
The crankset is the Praxis Alba, working along the KMC X10 chain to deliver more reliability and fast shifts when needed. Pair this up with the Axis Sport Disc wheels and the Espoir Sport tires, and you will get one of the smoothest and most responsive bikes in the market.
Another exceptional feature to not overlook is the Future Shock 1.5 suspension fork. Just like most of the Roubaix models, this one damps every impact wonderfully well. And with the Smooth Boot cover, you won't have to let the suspension make your bike look awkward.
But the suspension wouldn't work as well if you didn't have the S-Works Pave seatpost along with the Power Sport saddle. That delivers the extra touch of comfort so you can enjoy everything from the shifting to the brakes without a single drawback.
And sure enough, the Fact 10r carbon frame delivers the lightness and ease of use to make the entire bicycle a total pleasure to use. Add up everything that attaches to this frame, and you'll get a fantastic bike for an outstanding cost.
Pros
High-quality drivetrain with reliable chain and crankset
Top-notch brakeset for superb responsiveness
Resilient and impact-absorbing suspension fork
Super light and resistant carbon frame
Excellent value for the quality of its components
Cons
Slightly less responsive shifting and braking than other models
Not the best color options out there
Roubaix Sport (Old Model) Review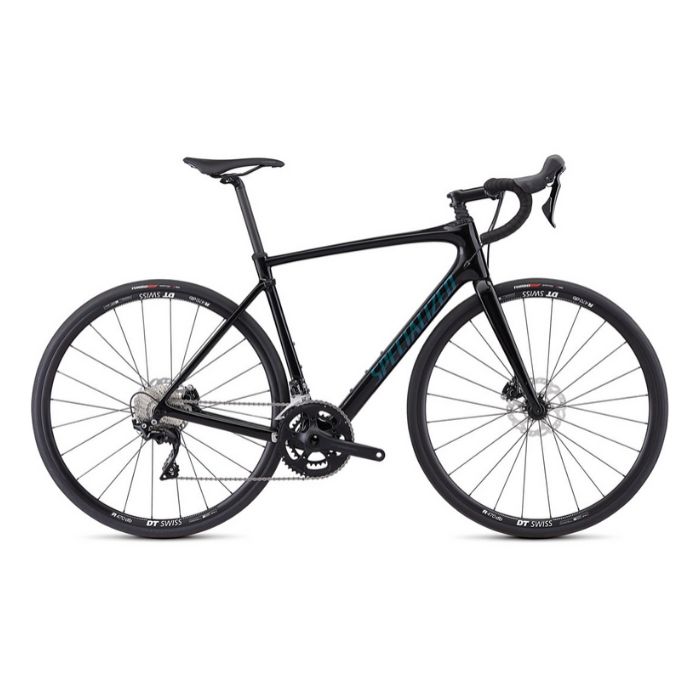 When talking about Roubaix, we wanted to make a statement – but we couldn't do that without talking about its old models. That's why we're going over the Roubaix Sport that came before the actual one.
The first thing that makes the old model stand out is the Fact 9r carbon fiber frame. It boasts the same Rider-First Engineered build that provides ideal fit and feel, so you can ride around smoothly.
This pairs up well with the Future Shock suspension system. This one has no number, yet it delivers a similar impact-dampening experience to make the bike easier and comfier to handle.
But the suspension does not only help to make control easier but also makes the entire bike faster and smoother. Along with the DT R470 Disc wheels that we've seen before, you can expect this bicycle to glide in pavement without drawbacks.
And to make it all better, you get the Shimano 105 shifting system with 11 speeds, ideal for switching fast and smoothly on any situation. Along with the Tektro Spyre mechanical brakes, you can expect maximum responsiveness.
Add up the Turbo Pro tires so you can get the ideal traction and enjoy all of the previous features at the max.
It is the old Roubaix Sport model, but it sure feels like an excellent choice already. And with the discounted price due to being discontinued, it is a choice you don't want to dismiss.
Pros
Extra-light carbon frame for durability and ease of use
Top-notch suspension system damps impacts and eases handling
Super smooth disc wheels allow extra speed
Next-level shifting system provides smoothness
Decent tires for extra traction and control
Cons
Limited color options
Brakes could be slightly better
Roubaix Comp (Old) Review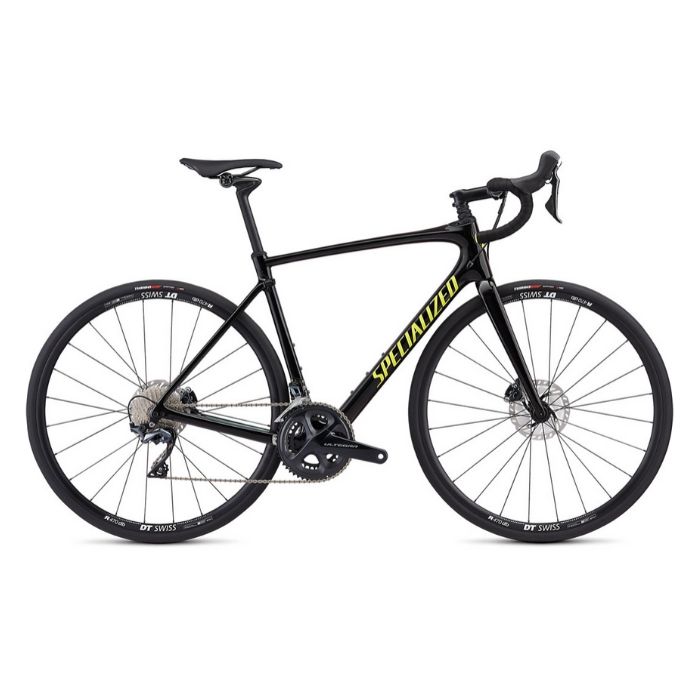 The old Roubaix Comp used to be the fan-favorite from this series. And there's no mistake why – it is actually the best you can pick for its value.
Just like the newer models, the Roubaix Comp uses the Fact 10r carbon frame. This is one of the lightest yet most comfortable and easy-to-use models you can pick. With the Rider-First Engineered build, it stands out in terms of resilience and results.
But it is not the frame alone that makes it all possible – but the fantastic components it boasts. Here, we can start with the Shimano Ultegra 8000 with 11 speeds. It was one of the smoothest and most reliable, and it still manages to be amazingly performance-oriented.
This goes well with the Shimano 8020 hydraulic disc brakes. Making the change from mechanical to hydraulic disc, the bike starts being more responsive and getting champion-level stopping power.
All of that wouldn't be possible without the DT R470 disc wheels and the Turbo Pro tires. Just like all other Roubaix models, the wheelset and tires boost the entire performance to the max.
And finally, we couldn't leave the Future Shock suspension fork behind. Along with a comfortable Cowbell handlebar and the well-made Body Geometry Phenom Comp saddle, you can expect a fantastic road experience without any awkwardness.
In short, this is an old gem that will never disappoint. With its toughness and performance capacity, it comes at an amazing value – as long as you can find it available.
Pros
The exceptional suspension system for handling and comfort
Ultra-responsive hydraulic disc brakes for reliability
Superb smoothness and traction with wheelset and tires
Unbeatable shifting system for performance
Hugely comfortable saddle for enjoyable riding
Cons
Difficult to find online
Overly colorful color options
Roubaix Comp–Ultegra Di2 Review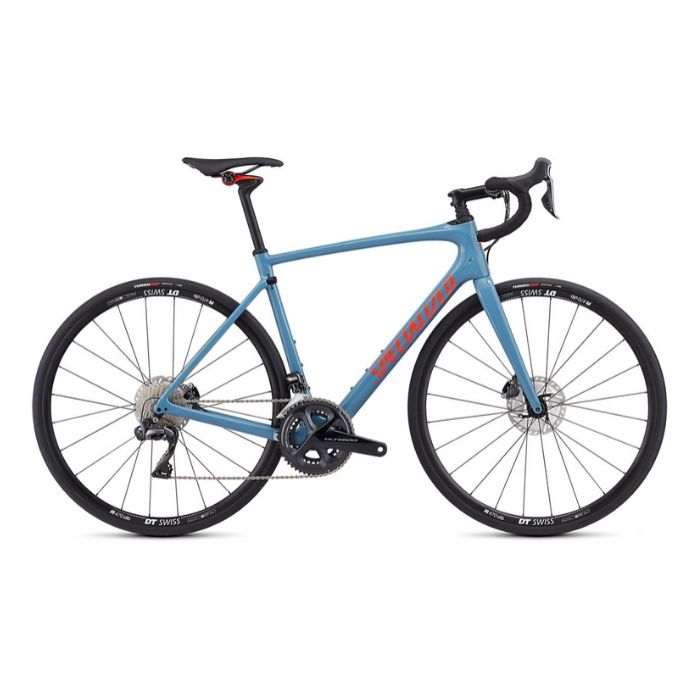 If it came to quality and overall results, the Roubaix Comp-Ultegra Di2 is undoubtedly the best on the entire list. Especially if you consider its decent cost – this bike will take it all to another level.
Combining the fantastic components of the Roubaix Comp and pairing them up with the Shimano Ultegra Di2 11-speed shifting system makes the entire bike a way more responsive and effective option. By just changing the speed on the go, you can enjoy a smooth switch for max performance.
Another excellent addition in the Comp Di2 model is the Shimano 8070 hydraulic brakes. They offer the extra touch of responsiveness, so stopping becomes super safe and way more effective even in the trickiest of surfaces.
To make this even better, you get the DT R470 wheels, along with Specialized Turbo Pro tires – ideal for traction and gliding in difficult terrain.
Lastly, you can enjoy the same Fact 10r carbon fiber frame with the Future Shock suspension. Together, they ensure you can handle the bike with no problem thanks to its lightness, but also enjoy extra resilience with the effectiveness of the suspension and the overall toughness of the build.
You still get the S-Works seatpost, the Body Geometry Phenom Comp saddle, and the Comp Hover Bar handlebar. Pair them up, and you will get one of the comfiest bikes in the market. Even in the most difficult of places – the bike will feel like riding on clouds.
And for the price, it is a total steal.
Pros
Unbeatable shifting system for smooth performance
High-quality brakeset for superb stopping power
Resilient and easy-to-handle frame and suspension fork
The highly comfortable saddle, seatpost, and handlebar
Ideal wheels for extra speed and smooth riding
Cons
Only two color options
More expensive than the standard Comp model
Frequently Asked Questions
After going through our reviews, you've probably found a few doubts ruminating in your head. Well, we may answer them here:
Is the Specialized Roubaix a mountain bike?
No. This is a road bike, specially made for competition and high-level performance.
Can I modify the Specialized Roubaix?
Yes, to a certain level. Some of the parts are not modifiable, such as the suspension fork, the shifting, and the braking system.
Does the Specialized Roubaix come in various color options?
Yes, every sub-model of this bike comes with a unique color combination so you can enjoy a more enticing bike in its entirety.
Is the Specialized Roubaix available for men and women?
The Rider-First Engineered system of the Roubaix frame in any of its models offers the chance to work comfortably for either men or women.
Can I use the Specialized Roubaix to go on long trips?
Yes, this bike is actually ideal for that kind of use. It offers the chance to ride comfortably for several hours and thousands of miles without problems. And with its quality components, you can expect a worry-free experience even through the most difficult of paths.
Conclusion
As you can see, there are so many different things about the Specialized Roubaix to love that it won't be easy giving it a pass.
When you see a bike that does everything it should for an exceptional road-biking experience, you are eager to try it as soon as possible. And this one is a perfect example of that.
The quality of its build, the smoothness of its riding, and the entire appearance that makes it stand out from other bikes – there's nothing about it to hate.
And with so many different sub-models to pick – as you saw in our Specialized Roubaix review – there's simply an option for everybody.
So yes – this is one of our favorite bikes, and we can't say much more than that. You'll have to try it!